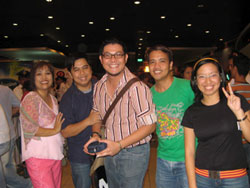 (ME,Jove, Bridget, Jher, Patty and Pamy who took the photo)
A meeting of Philippine Idol bloggers just before we went inside the theater. Jove Francisco (to my right), a popular Philippine Idol Blogger and ABC reporter told me that Philippine Idol bloggers built up Philippine Idol's popularity. Maybe it's true that bloggers contributed to the popularity of Philippine Idol. I remember when I first blogged about Philippine Idol. There were not many readers reading my Philippine Idol entries compared to recent entries. I notice that commercial breaks are getting longer indicating that there are more advertisers. The presence of celebrity guest in tonight's show compared to the past show a vote of confidence for the Philippine Idol shows.
Tonight's Big Band Night was such a refreshing change. Philippine Idol felt so alive and exciting. The top 4 [tag]Philippine Idol[/tag] finalists sang songs from the Big Band Era. The elegance of the production design and the songs made me want to dance with my husband. I am such a sucker for old standard music. It might seem boring to the younger crowd but it's soothing and relaxing. Big bands makes all music sound great.
Gian measured up to the international standards of Big Band music. He was meant to sing this kind of music. I am not too confident if Mau can warm up to western audiences during the competition of a "World Idol".
Who will be Philippine Idol's Top 3? My prediction is:

For me, it's Gian, Mau and Jan. I grabbed another photo opportunity with my Top 3 choices because it's getting harder and harder to squeeze in a a photo with them. Realistically, all four remaining finalists are vulnerable tonight. Talent vs. Popularity remains a controversial issue in this type of singing contest. And we all know a talented singer is not necessarily a popular choice which is pretty much how politics work in the Philippines. But it's possible to have both , right?

View Big Band Night photos