UPDATED Read my blog entry, Desperate Housewives Episode on Some Med School in the Philippines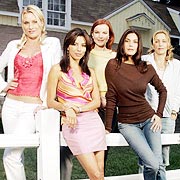 I was desperate. I was desperate to get rid of my throbbing headache that had been nagging me for the past week. I took naps. I stopped using weights. I took anti-migraine pills but nothing would get rid of the pain. I visited the doctor and found out it was a muscle strain just behind my left ear. I must have overdid my weights. So I decided that I needed a break. I cut my computer work down to 4 hours a day and for the next 4 days, I did a marathon viewing of "Desperate Housewives" Season 1 and 2.
M looked worried . She was used to seeing me working all day. "Mom I hope you won't get desperate".
I laughed "You don't have to worry. I have lived through the most desperate years and I am still here."
My family teased me as I remained a permanent fixture at the family den, nibbling nuts as I cozily lounged on the couch. What was even funnier was they teased me to "Bree Van de Kamp", the obsessive compulsive character in the movie. "Haha, I am not a Bree". Yes, I admit I can be obsessive-compulsive. I love to cook special dinners, create crafts for my home decors, bake cookies and even icing birthday cakes for the children. I annoy my family by being too color coordinated during meals and such but I am not a perfectionist at all. I was being a "Bree" because I had to stretch the budget. During the kid's birthday parties, I did all the cooking , baking and entertaining. Why should I hire a caterer or an events coordinator if I could do it myself?
I never knew how much all these meant to my children until I received a Christmas card from L a few years back. Instead of being rude about my desperation, L thanked me for the most magical childhood memories but added that she was clearly worried about my life. Those were the rough years when I was just newly bereaved and living a life of a zombie. It really touched me that my efforts to be a super-mom in their childhood was deeply appreciated. There were moments in their teenage years that I felt that I didn't know them.
L chided "I don't mind gourmet food, mom".
M suggested "We should try turkey for Christmas".
I smiled and continued on with my marathon. Okay, the show is very entertaining. It surely gave me the endorphin fix I needed to relax and ease my neck strain. I liked how they tackled the loss of a spouse, a miscarraige and loss of mother. Death is a normal part of life and dealing with the loss should be properly addressed to even if it's just a show.
Desperate Housewives is clearly based on American culture with a few issues that I can relate to. REGAL's Mother Lily Monteverde's is planning a film patterned after 'Desperate Housewives' entitled "Desperada". Gretchen Baretto, Dawn Zulueta and Ruffa Gutierrez are among the stars handpicked by the producer but intriques already arise among the three so the movie is on hold for now. I don't know how our Filipino version will turn out to be. Oh well. If I were the producer, I won't portray glamorous stars to represent the Filipino desperate wife. In the Philippines, a desperate housewife is:
1. making ends meet to fit the household budget.
2. if number (2) is not met, she is forced to work to augment the income.
3. if number (3) is not met, she will take a job abroad and be one of the millions of Oversears Filipino Workers (OFW).
Knowing Filipino movies, the glamor part sells more than the reality of life . After all , movies are the fantasies we need to escape the grim realities.

Here's a special episode of Desperate Housewives in Oprah