You all know that I watch Philippine Idol as part of the live audience, at least in most of their shows. I take photos as I view the show because I blog about Philippine Idol. Let me give you a brief background on my reasons for blogging Philippine Idol. I am an avid fan of American Idol ever since Season 3 and have blogged about it since then. Excited that Philippine Idol finally reached the Philippines. I also blogged about it. I didn't know that Google loved that entry so much . I found my Philippine Idol Blog ranking no 2 or 3 with "Philippine Idol" keyword. By sheer coincidence, my husband announced that we have tickets to all of the Philippine Idol shows because of his friend in Freemantle (the franchise owner of the Idol concept?). Since then , I have been watching the live shows.
Since it's my daugher's semestral break the past two weeks, I dragged them with me. Knowing they could be a snob to Philippine showbiz, I assured them that they will be entertained. Anyway, I know there are other bloggers who watch it live. One of my favorite Philippine Idol blogger is an ABC reporter, Jove Francisco because he reveals juicy insider tibdbits. Although I hear some gossip inside the studio , I keep mum about it.
After I uploaded my photos and wrote my entry, I visited Jove Francisco's Philippine Idol Dance night entry and I was caught by surprise:
I also enjoyed the company of this great woman. Magkasundo kami sa comments, and it was as if, magkakilala kami kahit hindi. I know she blogs though, I read her kasi, all the time! Good thing siya nakatabi ko. (One forum guest noted na ""parang galit" ako last night sa upuan ko, my seatmate can attest to the fact that I wasn't, ang saya saya nga namin eh, hehehe)
Could that be me? I clicked the link and lo and behold, it was my Philippine Idol Photo Blog. Talk about mutual admiration society! I didn't know he sat beside me. (see screencap below) Haha, it's a good thing I didn't make a fool of myself or else Jove Francisco would have blogged "…There was this crazy woman seated beside me bouncing on her seat and waving her camera all night ." I am just kidding. Of course he wouldn't do that. I wrapped some glow sticks around my wrist that night and clapped and danced on my seat as the Idol performers crooned and cavorted onstage. You must know that as live audience and especially those that are seated right across the judges, are told to do the following:
1. Look cheerful and energetic. Don't look bored. Frowning is a no-no.
2. Clap everytime the show goes live after commercial break.
3. Don't talk to your seatmate. Don't text.
That night, the ticket ladies assigned our seats right across the three judges . I didn't want to complain because earlier, I had whined over our initial seat assignments. It wasn't the usual center seats. They gave us side seating arrangement but changed their minds as we weaved ourselves to our assigned seats. My two daughters didn't want to be caught live on TV and requested back seats. In an earlier episode, I didn't know that we would get panned by an inconspicuous camera set behind the stage. Horrified, I saw myself during a replay the next day. There I was oblivious of the cameras, snapping photos while my husband had this dropped jaw look. How embarassing. Talk about another one of my misdaventure as a photo blogger Part 3! Conscious of the cameras, I resolved to take photos only during the performance and quickly tucked the camera under my shawl when the judges started their critique. My husband straightened his jaw as the cameras panned towards him.
After last night's show, I believe that Philippine Idol " slaughtered in the ratings" is inaccurate. Friends we thought didn't watch Philippine Idol texted us that they caught us on TV (Click video clip) or maybe they were channel surfing?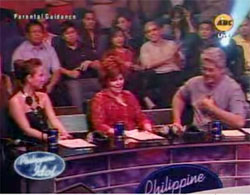 Jove Francisco is to my right
Read my Idol Dance Night Entry, my Top 3 Philippine Idol prediction and more Philippine Idol Photos


My daughters practically enjoyed the shows and even asked to pose with Ryan and Pow.