Our digital well-being matters. It is best to disconnect when needed and create healthy habits for the whole family.
Originally posted at the Sunday Business & IT on October 14, 2018
Are you guilty of reaching for your phone every time you wake up in the morning to check on your notifications? I do and it has become a habit ever since I got hooked on social networking sites as early as 2007.
Proof? I spent 56 hours and 37 minutes on my iPhone for the last seven days or an average of eight hours and five minutes per day. My husband overheard me exclaim as I read the Screen Time statistics on my iPhone. He comforted me with "That's part of your job." Sure, I am a social media practitioner and citizen advocate rolled into one. I love to curate news articles, share photos and updates or opinions from my five blogs. It is time to audit and check if my usage is too high or excessive for my work. Is it time well spent? My Fitbit app tells me I slept an average of seven hours and a half the past week. That leaves eight hours and a half for my laptop use and other activities such as driving, walking and meeting people.
The latest iOS 12 features the Screen Time tools which show up under Settings > Screen Time. This provides an iPhone user with iPhone 5 and above to find out the time spent and limit apps' usage. The first thing I do is to check the Screen Time report, a bar graph that illustrates the time spent on my iPhone during the day or in a week. One can see the breakdown of the time spent on specific apps. Try it. My latest weekly screen report showed:
1. Social networking — 37 hours and 56 minutes (Facebook, Twitter, Instagram, messenger, Messages, LinkedIn, Telegram, Viber, WhatsApp, Local, Bubbly, Skype, Quora, Tumblr, Signal)
2. Reading & Reference — 3 hours and 54 minutes (Safari, Waze, Angkas, Online news)
3. Creativity — 2 hours and 34 minutes (Lightroom CC, camera, photos, Snapseed, Boomerang, GoPro, Unfold, Insta360Nano S)
4. Others — 2 hours and 24 minutes (browsing, shopping apps)
5. Productivity — 1 hour and 40 minutes (Gmail, Drive, calculator, Calendar, One Note)
6. Entertainment — 1 hour and 4 minutes (Spotify, Youtube, Oculus)
7. Health & Fitness — 19 minutes (Fitbit, Nike)
In the WeAreSocial Global Digital Report for January 2018 in the Philippines, the average daily time spent using the internet via internet device is nine hours and 29 minutes. Average time using social media spent via any device is three hours and 57 minutes. While my total screen time is lower than the average, I spend over four hours on social media. I was alarmed by the data. After seeing I use 15 social networking apps, I decided to prioritize them.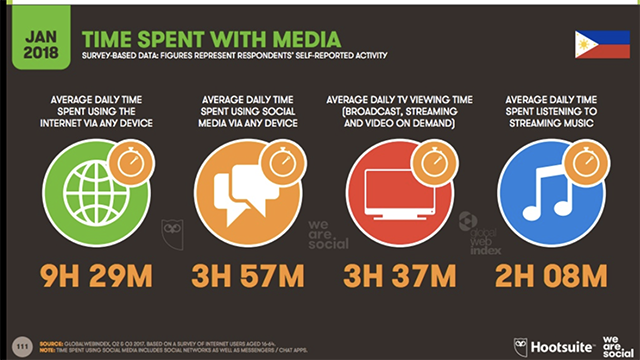 Using the Screen Time tools, I limited the average one hour time on Facebook to 30 minutes a day. I did not set limits on Twitter. My number one platform for social media engagement is Twitter because fewer trolls thrive in this network. Thirty minutes in Facebook is not adequate during a busy news day.
iPhone users can use the "Do Not Disturb" function that lets you turn off your notifications and calls.
The "Downtime" feature allows you to do the same for apps. Parents can manage their kids' screen time and impose app limits on them remotely. To use Screen Time for tracking and managing your kids' device usage, the parent must add them to their iCloud Family Sharing account. Google initiated its "Digital Wellbeing" app, which is in beta preview for Pixel devices. Facebook and Instagram rolled out digital well-being features that include an activity dashboard, a daily reminder, and a new way to limit notifications.
Although I'm committed to using technology in advocating change for social good, my digital well-being stays front and center. There is a concern about the blue light from digital devices which allegedly can damage vision and speed up blindness. Based on an optical chemistry research at the University of Toledo in the US, "blue light from digital devices and the sun transforms vital molecules in the eye's retina into cell killers". Dr. Ajith Karunarathne, an assistant professor in chemistry and biochemistry in the university said: "We are being exposed to blue light and the eye's cornea and lens cannot block or reflect it". The research published at the peer-reviewed journal Scientific Reports added, "It's no secret that blue light harms our vision by damaging the eye's retina. Our experiments explain how this happens, and we hope this leads to therapies that slow macular degeneration, such as a new kind of eye drop." If you want to protect your eyes from blue light, Dr. Ajith Karunarathne's advice is to avoid looking at your cell phones or other blue-light emitting devices in the dark and consider wearing sunglasses.
Our digital well-being matters. It is best to disconnect when needed and create healthy habits for the whole family.
The complete study can be found here.