Easter Day will always remind me that my son is just around me. I believe he is somewhere living an eternal life. This station of the cross painting is also a reminder that I am comforted by many "St. John's" in my life. In those temporary moments of deep sadness, these two memories bring me comfort.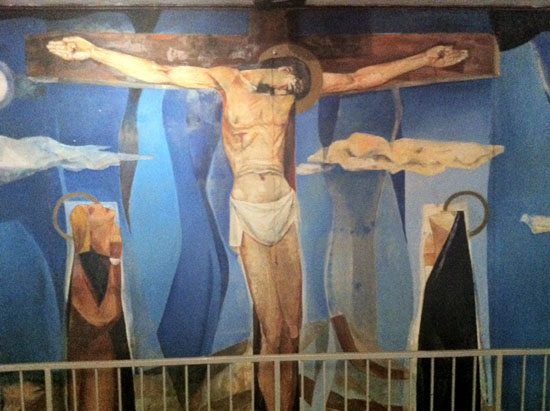 Inspirational messages or reflections from bible passages are another source of comfort. Friends like Jay Jaboneta often share meaningful reflections. Today he sent an Easter Sunday Message from Fr Celestino Say of Texas , USA. Let me share it here.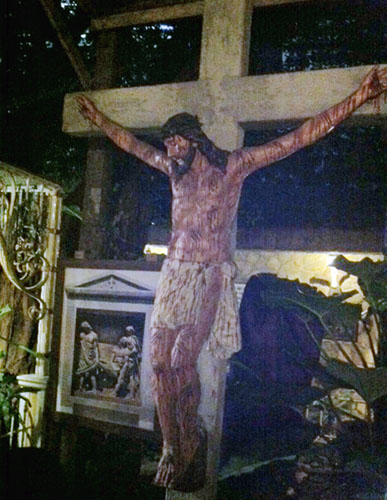 "A warm welcome to all of you, who have come here to rejoice because Jesus Christ is risen from the dead. This is the greatest news that the world has ever received. Death has been conquered. It no longer has the final victory. Christ is risen, and his resurrection carries with it the promise of new and unending life.
St. Paul in the second reading tells us to ""Set your minds on things that are above." If we are to be people of the Resurrection, then we must live as people whose lives are overshadowed with the light of Jesus' resurrection. It does not mean that we are asked to live in another world. We are not to have our bodies here, and our minds somewhere up in the clouds.
The things that are above are the realities of everyday life that really count. If we are only seeking more and more possessions, if we are concerned exclusively with our own welfare, and neglect the good of others, we are not seeking the ""things that are above."
When we believe in the resurrection, that means we believe in the power of Christ to make all things new. If Christ has the power to raise us from death, then he has the power to heal us from failures and disappointments that life brings so often. He has the power to restore relationships that have been broken, or even damaged so badly that we have given up hope of any healing.
Being people of the Resurrection means that whenever the opportunity arises for bringing new life to people, we jump at the chance. Without hesitation, we do what has to be done to bring the message of new life to whomever we can.
There is a story told of a school teacher who was assigned to visit children in a large city hospital. She received a routine call requesting that she visit a particular child. The teacher took the boy's name and room number, and was told by the teacher on the other end of the line, ""We're studying nouns and adverbs in this class now. I'd be grateful if you could help him with his homework, so he doesn't fall behind the others."
It wasn't until the visiting teacher who got outside the boy's room that she realized that it was located in the hospital's burn unit. No one had prepared her to find a young boy horribly burned and in great pain. The teacher felt that she couldn't just turn around and walk out. And so she stammered awkwardly, ""I'm the hospital teacher, and your teacher sent me to help you with nouns and adverbs."
The boy was in so much pain that he barely responded. The young teacher stumbled through his English lesson, ashamed at putting him through such a senseless exercise.
The next morning a nurse on the burn unit asked her, ""What did you do to that boy?" Before the teacher could finish her outburst of apologies, the nurse interrupted her: ""You don't understand. We've been very worried about him. But ever since you were here yesterday, his whole attitude has changed. He's fighting back; he's responding to treatment. It's as if he has decided to live."
The boy later explained that he had completely given up hope until he saw the teacher. It all changed when he came to a simple realization. With joyful tears, the boy said: ""They wouldn't send a teacher to work on nuns and adverbs with a boy who was dying, would they?"
Do we ever treat people as if they were dying? When we give up on others, or just ignore their needs, we treat them as if their life isn't worth anything. But Jesus' resurrection is the clearest and boldest call we could ever receive, challenging us to be life-giving men and women to others. Each of us holds tremendous power – power for good or power for evil. Our circle of influence may be small or it may be large. The size of our influence doesn't really matter. What does matter is the life we bring or refuse to bring to others. Whether your whole life is devoted to the care of one handicapped person, or to the welfare of thousands of people in need, what matters is that you bring hope and encouragement to whomever God has sent you.
May the Risen Jesus fill your lives with newness, may his power in you bring that newness to many others. God love you!"
Thank you Jay.
As always, it was a wonderful day to be at my son's resting place and bring flowers. Though the day was warm, the gentle breeze was soothing. The light from the candle served to light our lavender scented incense.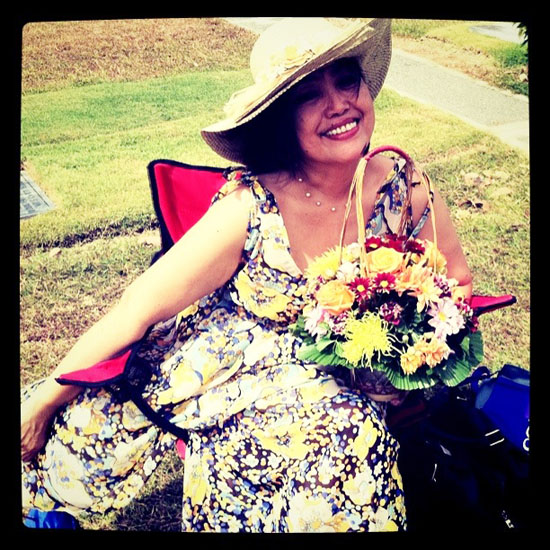 There lies my son, the reason for my passion to live a meaningful life and to be part of the solution of this country's problems.