I am a firm believer that one of the solutions to our country's economic woes is that more of us should start a small business and be self-sustaining. With the advent of the internet, business can even start online.
Women entrepreneurs are an ever-growing part of the economy, and one of the best opportunities to start is through online selling on your own platform or using one like eBay. I had the opportunity to talk to eBay Philippines a few weeks back. I discovered that eBay Philippines provided our women to run successful businesses right in the comfort of their own homes.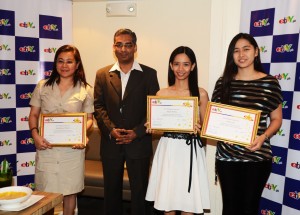 Three remarkable women – Ms. Maria Rowena Pimentel, Ms. Joanne Lim & Ms. Peapie Ponce shared their entrepreneurship success stories, providing insights on running a business through eBay.
Ms. Maria Rowena Pimentel, who began her run at entrepreneurship five years ago, related how grateful she was that selling through eBay allowed her to be more flexible with her time. Despite managing business operations on a full-time basis, she also has the luxury of being a full-time mom. She left her original workplace to sell iPods and digital cameras through the popular auction site, and it has paid off. ""I can guide and teach them and be with them anytime they want while still earning and even receiving higher than what I've been getting when I was still working," a delighted Pimentel shared, ""I have a balanced family life, both with my career and kids."
Ms. Joanne Lim began her entrepreneurship success story five years ago, too, but wasn't originally looking to make it a full-time business. When her fragrance sales soared, she realized the power potential eBay had as an e-commerce platform. Her home business is running strong to this very day, and she has earned far more than just money. ""Thanks to eBay, I am actually able to work at home and I have met many individuals from almost every province, some of who have become very good friends of mine."
Ms. Peapie Ponce, on the other hand, chose eBay as the main platform for her watch-selling business due to its wealth of features. ""I love selling on eBay because of its awesome feedback system. It allowed me to build up my business from scratch. eBay is very easy to use."
I also got to talk to Mr. Abhimanyu Lal, Business Head of eBay Philippines who was around to celebrate these women entrepreneurs. He went on to commend the Filipino online entrepreneur community as a whole, with more than 3,000 of these bright businesspeople utilizing eBay as their main source of commerce. He continued to encourage entrepreneurship, saying """"With the partnership with Go Negosyo and the organization's visions of making the Philippines the eCommerce hub of Asia, we believe that many Filipinos will become netpreneurs. We hope to bring the benefits of eCommerce to many citizens."
According to current trends, Philippine e-commerce is expected to see a 9.3% rise in value. With a platform like eBay Philippines,it makes it easier to start an online business.
How does one start an online business? One just needs to select a category of products to sell, register on eBay and create a listing. In a few minutes, their online storefront is ready for business. All it requires is a computer with a net connection. Online netpreneurs can sell to over 750,000 Filipinos registered on eBay Philippines searching for great deals & a variety of products. Imagine the possibilities of the market.