A primetime show in Channel 7 invited me and my husband to appear for their Christmas episode. The production staff were so visibily touched by Luijoe's story that they practically read the whole website. This TV show will portray how a bereaved couple celebrated Christmas without their loved one. I've noticed how grief is not a taboo subject in our local TV or magazines. Just a few years ago, the only grief article you will read in our local papers are by Cathy Babao-Guballa. I turned down the invitation because there are other touching stories from a lot of bereaved parents. I referred the production staff to a newly bereaved couple. This parent whose adult son died a year ago on a December month will be featured for that Christmas epsidoe (I will announce the schedule of the show later on). I can talk all I want about The Compassionate Friends, our local grief support group and how it helps bereaved families but it won't have an impact unless a parent actually shares on how the group has helped them with their grief journey.
The parent didn't believe in sharing her grief. Grief is a private matter, they thought. She didn't even want her deceased son's visitors to cry during the funeral. They were fine for a month or so until they could not handle their pain anymore. One day they read our article in the Sunday Inquirer . They cut the article and pinned it to their bulletin board. Looking at the pinned article everyday for two weeks, they finally found the courage to contact us. The rest is history.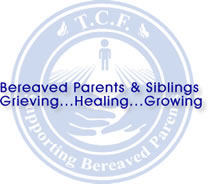 Today marks the first year anniversary of The Compassionate Friends Philippines. Co-founded by Cathy, Alma , myself and our spouses, we continue to bring monthly meetings to newly bereaved or seasoned grievers.
A year ago, when I first told my eldest daughter about The Compassionate Friends, she seemed worried " So what will you be doing? Talking about your dead babies?"
My other daughter asked "Won't you get depressed hearing sad stories?"
I stopped and thought for a minute… it is incredibly sad to hear the stories of loss and pain, but it does not depress me. I ache for those families whose loss is more recent, where the pain is a heart savagely torn into raw pieces and where the pain seems relentless and like it will last forever. But I am further along in my grief journey and I have gone through so much pain that I have learned my lessons well. I don't know how I made it this far . I don't know how I kept my sanity, through the past years when there were no grief support around. I know for certain that my grief journey, as hard as it has been, was made easier, and my burden lighter, through the grace of God. He was the one who enlightened me to start this support group.
Making sense out of my son's death was the only way to understand the "why's".
You know those questions "Why God? Why me? Why take my son? Why were we punished?" that are often left unanswered? Well, reaching out to others was the only way for me to make sense out of this relentless pain, to move on towards the positive resolution of my grief.
And so The Compassionate friends continue to come monthly…to meet, to hug, to cry, to laugh to listen and to try to understand another's story. We come to love each other's children that we never got to meet. Their faces become almost as familiar as our own children's faces and so incredibly dear because they were so special to our friends. In sharing our children's lives and their deaths, they continue to live on through our stories and our pictures and we are comforted as we grieve together.
Note:
In loving memory of all children who are no longer with us, The Compassionate Friends extends an invitation for you, your family, and friends to join tens of thousands of persons around the globe 10th Worldwide Candlelighting or light a candle in their homes…

Where: UP Sunken Garden, UP Campus, Diliman, Quezon City
Date: Sunday , December 10. 2006
Time: 5:00 to 8:00 PM

co-sponsored by UP Katipunan ng mga Mag-aaral ng Sosyolohiya