I was at the pet shop of Makati Cinema Square, looking for an anti-flea medication for the pets at home when I spotted these kitties. How adorable. This Birman kitten mewed as I approached the cage. So cute. Then did a cutesy pose. He looks like a cross between a Siamese cat and a Persian cat. I looked at the price. Birman Cat, No papers, 10,000 pesos ($196.00). 10,000 pesos, really? I exclaimed. The salesman said it costs 36,000 pesos ($705.00) if the cat came with papers but he could gives me 1000 pesos off the asking price. Our Siamese cat came without papers and cost only 2,000 pesos over 7 years ago. But this is a Birman Cat. Unlike the Siamese cat, Birman cats are affectionate and soft-spoken. Lauren's Siamese pet can be such a loud mouth. I really want to buy a pet cat of my own or even adopt an ordinary cat. See, the existing pets at home are owned by the 2 girls. They refuse to be petted by me whenever the girls are around. The kitties clamber up to my chair only when the 2 girls are at school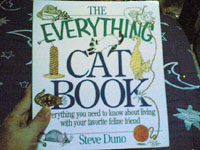 I don't think my husband will approve of a third cat at home. He's asthamtic. But out of his love for the girls, he allowed them to have pets. In fact, he surprised me by buying "The Everything Cat Book". It's enjoyable to read and contains a lot of information I never knew in caring for cats. He knows I love these furry balls.
But a cat book is different from having a third cat. Mother's day is coming soon, as Lauren quipped. Hmm?!
*Edit: The next day….


The other kitty got sold and Lauren wants to buy the remaining kitten. But I can't afford it.