In every meeting of The Compassionate Friends, we provide positive ways for grief management. We believe that the only way to truly relieve the pain is to work through the grief. Once we had "Creative ways of Remembering your loved one". The topic was about "Healing through Journaling" or Grief Journaling[/tag] by Leah Eriguel, a Palanca awardee and friend of Cathy.
In my early days of overwhelming grief, I was unable to write down any of my emotions. In the webpage I created for my son two weeks after he was buried, I could only write this:
How should I start my story? Too many questions without any answers. How can a happy family day turn into a tragedy? It is difficult and painful for me to write about the drowning accident. That was how we lost our beautiful boy one sunny day at a beach resort. Coupled with the grief I'm feeling right now, I'm still sorting through other emotions like the guilt, the regret, and the shame . The nightmare is still so clear in my mind like a movie that keeps replaying all over again.
I ended up in tears. So I only placed the eulogy. Someone said, write a journal. But I didn't know how. I'm not a writer. Or I didn't know how to express myself.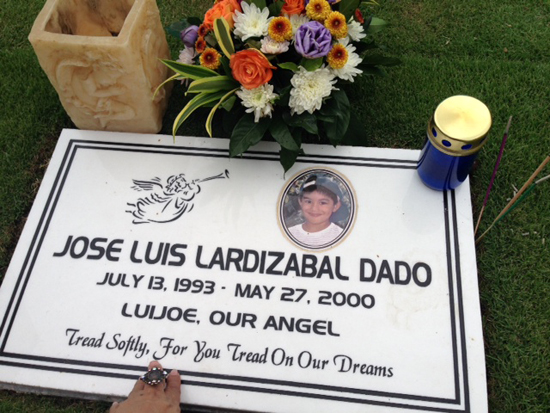 As Leah Eriguel unfolded the techniques of grief journaling, I wished she were around in 2000 to guide me on how to express my painful feeelings in writing.
There is no right way to journal. During the early phases of grief you may not have the energy to set down more than a word or two each day to track your feelings or what you did. Making lists is another good way to get started. You might want to make a list of what people have said that comforted you, a list of ways you can nurture yourself, or a list of all of the things about your loved one that you miss.
The idea of a memory journal is something similar to the Memory Lane of Luijoe's memorial site. I wrote about his favorite jokes, favorite music, and his questions about death, angels and heaven. The memory journal is an easier task to do.
Leah added another technique , Writing for insight.
But first, you must banish internal editor by writing quickly, allowing the words to freefall from your subconscious.
Write continuously. Don't erase or cross-out any words. Date each entry in your journal. Note the time, place and any details regarding your mood and emotions that will be necessary for context when you read back on your work.
After you've finished a journal entry, take a walk or get up for a glass of water before you reread your entry, and remember to reread your writing with compassion.
Then write an Insight Line—a sentence or two about what you think the piece is trying to tell you.
Of course, there are various journaling techniques that best suits the way in which you express yourself. if you are stuck and have nothing to write, try recording snippets of conversations, facts, feelings, fantasies, descriptions, impressions, quotes, images and ideas. Draw pictures, Make a collage from a magazine.
At the end of her interesting lecture, Leah gave us a little exercise: "Imagine you see your loved one smiling , then use the word "FIRST". Write for 10 minutes non-stop without lifting your pen."
This is what I wrote:
I remember the day you FIRST gave me flowers. You placed it on my table while I was working. Everyday you placed flowers on my table. So I got a vase and placed it right beside me so there will be a place for your flowers. The next afternoon, you came with another bunch of flowers that you picked from the park. You beamed as you saw the flowers in the vase. You knew how important they were to you. Everytime I see flowers, I remember that first day. Memories of you saying : "I love you so very much, mama". I smile and feel the comfort of your love. That remains with me forever. Today when I visit your resting place, I lay down the flowers for you. You know how much I love you, don't you?"