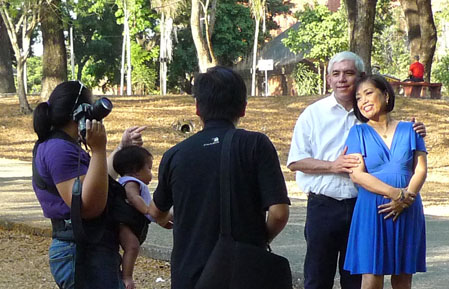 And I know your eyes in the morning sun
I feel you touch me in the pouring rain
And the moment that you wander far from me
I wanna feel you in my arms again
And you come to me on a summer breeze
Keep me warm in your love and then softly leave
And it's me you need to show ….
How deep is your love?
Oh yes love, we celebrate love every way we can. Milestones are valued.
"How deep is your love?" by the Beegees hit the airwaves in 1977 but it was the song of the season when Butch and I became steadies on March 7, 1978. I played the music on our way to our photo shoot with the best wedding photographers, Mimi and Karl. It was just natural that we chose the UP campus (where we met) for our silver anniversary photo shoot and the celebration of our 32 years as a couple on March 7. Dragging my two girls to join us, the two hour photo shoot was sweet and poignant. I love my husband for being such a good sport knowing he poses stiffly for photos. That's how love works, I guess.
As he wrapped his arms around me, I loved how the soft breeze cooled the scorching sun hitting us between the branches of the tree. I clutch on to my heart-shaped pendant where a photo of our beloved Luijoe is engraved. "Luijoe is with us, too…in our hearts". We smile at each other. We are a complete family as we pose, laugh, twirl around and smile for the cameras.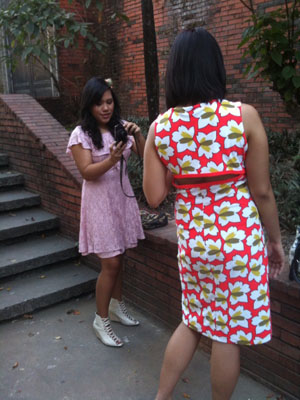 It is natural for Butch to be sweet and romantic because that's his personality but he can also have his bad moods. I cautioned him to "Please be in a good mood for this photo shoot". Butch took the day off just to clear the day of any worrisome work which might adversely darken his mood.
It is difficult enough to get a schedule with Mimi and Karl on weekends, the day my daughter is available. Fortunately, she resigned from work just recently and scheduling was easier on a week day. It helped that she is an avid fan of Mimi and Karl. You have no idea how difficult it is to coordinate activities with two busy girls. (Lauren writes on behind the scenes of the photo shoot.)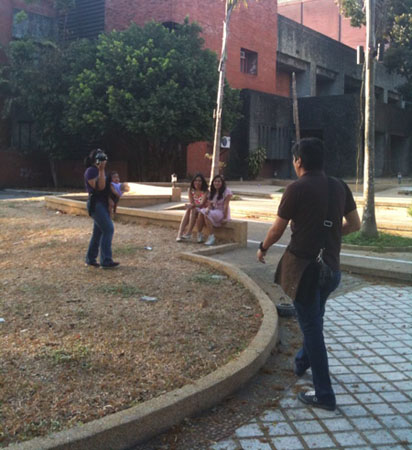 We both hold our daughters' hands as we walk around the campus where their parents met 32 years ago.
They are a witness to our love, our pain and second (or third) wind in marriage.