Edit (February 27): Links on news updated below

View Photos of Amiel Alcantara's Balloon Release
Pepe Alcantara's Eulogy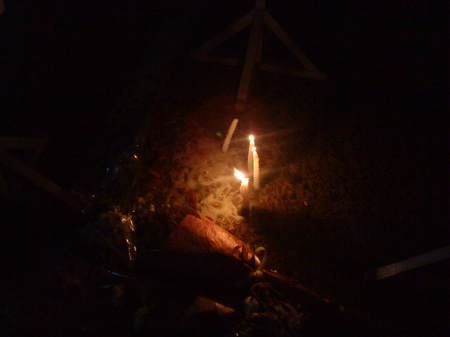 Candles and flowers on the spot where Amiel Alcantara'a head got pinned by the van's tire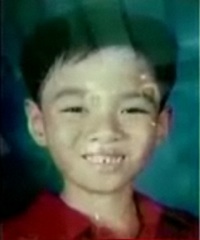 Julian Carlo Miguel (Amiel) Alcantara, a 10 year old student of the Ateneo de Manila University got fatally hit by a van yesterday afternoon (February 24). News report from the Inquirer said that
A 10-year-old student of the Ateneo elementary school was killed while his nanny was injured when a van hit them on the university's parking lot in Katipunan, Quezon City, on Tuesday afternoon.

Superintendent Rudie Valoria, head of the Quezon City Police District Traffic Enforcement Unit said a Toyota van (CRW-705) driven by one Ma. Theresa Torres, 37, interior designer and resident of Charbel Executive Village in Mindanao Avenue was involved in the accident.

Valoria said Torres surrendered to the police and has been in custody since then, and would be charged with reckless imprudence resulting in homicide and physical injury.

He identified the fatality as Julian Carlo Miguel Alcantara, 10, and the nanny as Tata Suarez, 65.

The boy, Valoria said, was declared dead on arrival at the New Era Hospital an hour after the accident took place. He died of head injuries.

Suarez was injured in the ankles and shins and was treated at the school infirmary.

The boy's brother, sister and an unidentified friend who were with the victim at the time of the accident were unharmed.
Here is a 3d simulation of how the accident happened
For the latest Philippine news stories and videos, visit GMANews.TV
My heart just went out to both the Alcantaras and the Torres Family. I am offering my deepest condolences to the Alcantara family. There are just no words to comfort you. I know both families are in their darkest hour. I can only offer my prayers. I don't know them personally but our families share a common experience, the untimely and sudden death of our sons. A sudden, accidental, unexpected or traumatic death shatters the world as we know it. It is often a loss that does not make sense.
The sudden tragic event shatters our sense of order and thrusts us into a world forever changed. Survivors of sudden loss may experience a greater sense of vulnerability and heightened anxiety. The safe world we once knew, no longer exists. We fear for ourselves, our family and friends. I can also imagine the classmates of Amiel and the witnesses to the accident. Survivors can become overwhelmingly preoccupied with thoughts that such a random act of violence might happen again.
And even if I have experienced a loss of my son through an accident, I cannot fathom the pain they must be experiencing now.
I gathered from Amiel's teacher that the parents appealed for prayers:
Humihingi kami ng mga dasal niyo para sa kaluluwa ni Amiel Alcantara. Siya ay nasa ikaapat na baitang at mag-aaral ng Mababang Paaralan ng Ateneo de manila. Kanina lamang, siya'y naipit ng dalawang kotse sa may dismissal/waiting area, oras ng kanilang uwian. Kinailangan pa siyang hugutin mula sa ibaba ng kotse upang maialis siya sa pagkaipit. Maraming dugo ang nakita sa pinangyarihan ng insidente. Naisugod pa siya sa ospital ngunit hindi rin nagtagal at siya'y pumanaw. Nawa'y ipagdasal niyo ang kanyang kaluluwa at ang kanyang pamilya. Pakipasa ang mensaheng ito sa iba. Maraming salamat po.
Let's all pray for both families.
At the Wake of Amiel Alcantara at the Ateneo Grade School Chapel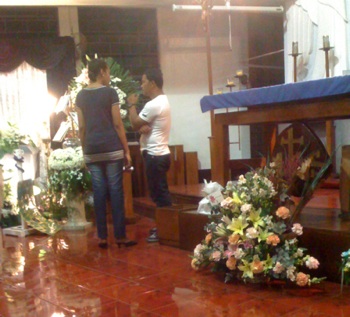 At around 9:00 PM tonight, I dropped by the wake to give brochures of The Compassionate Friends to Pepe and Melanie Alcantara. I usually visit bereaved parents as part of my mission of the Compassionate Friends just so they know a grief support exists. First reactions of shock, numbness, denial and disbelief help to cushion these newly bereaved against the full impact of their loss. It is when this protection against the cruel reality of the death begins to wear off that they will begin to feel the full extent of our grief. That's why I told them to look at it a few weeks or months after. Most of the newly bereaved contact us a month or two after.
I was privy to the police report and though I want to maintain the couple's privacy, let me just tell you that the TV reports as shown by TV Patrol is not an accurate version. The acceleration of the van sounded like the sound of a racing car. It was that loud!
Classmates of Amiel Alcantara dressed in white polo paid their respects together with their parents. Some of them gave letters to the mom which seemed to comfort Melanie.
The Alcantara's actually almost lost THREE children, and not just one if not for the timely action of their 65-year old Yaya Tata. Spotting Yaya Tata on the wheelchair, I noticed her two feet were bound by elastic bandage. I sat beside her and condoled with her. She had been Amiel's yaya since birth and she must be grieving too. She didn't speak much and stared most of the time at Amiel's coffin. Yaya Tata told me that she is due for operation today.
It tore my heart as Jana, the 7 year old sister kept scuttling back and forth to Amiel's coffin.
Good thing Cathy, a co-founder of The Compassionate Friends also dropped by together with her husband. She gave Amiel's sister, Heaven's Butterfly, a children's book on grief.
Cathy has more updates:
Amiel, his 65-year old Yaya Tata (who has been with the family for 40 plus years), his 7 year old sister, and 13 year old brother Javi, together with the driver, were already so close to their car when the CRV driven by Teresa Torres, careened from behind and hit Amiel. Yaya Tata was able to push the youngest one and the elder boy out of the way but was too far to get to Amiel. Yaya Tata had herself suffered injuries and fractures and is set to have surgery next week. The most heart-wrenching thing about the whole thing is that it was the Alcantara's driver and 13 year old Javi who had to extricate Amiel from beneath the van. The impact was so strong that three other vehicles were damaged in the process before the vehicle finally came to a stop. How does a 13 year old young boy cope with the image of seeing his younger brother that way?

It was the driver who took Amiel to the New Era hospital and they were en route to the hospital in another Ateneo parent's car when Amiel died in his arms. Amiel's father, Pepe Alcantara, former chair of the UP Student Council in the 1980s, and his mother, Niann, were no longer able to see their youngest son alive. It is a tragedy of such great proportions.
(It was actually a Toyota Hi-Ace van which Theresa Torres drove and hit the CRV)
News Video
QTV: Amiel's family finds it hard to move on

For the latest Philippine news stories and videos, visit GMANews.TV
QTV: Ateneo community mourns Amiel Alcantara's death

For the latest Philippine news stories and videos, visit GMANews.TV
Amiel Alcantara UPDATE (with statement from Alcantara family) From GMA News

Family Amiel, Ateneo accident victim, releases statement. Family Amiel, Ateneo accident victim, releases statement, February 26

For the latest Philippine news stories and videos, visit GMANews.TV
Woman in Ateneo car accident charged with homicide, February 26

For the latest Philippine news stories and videos, visit GMANews.TV
Witnesses recall Ateneo car accident, February 25

For the latest Philippine news stories and videos, visit GMANews.TV
Ateneo pupil run over by car inside campus, February 25


Video from TV Patrol, February 25
This entry will be UPDATED regularly. See below
News and Related Blog Entries
Family of Ateneo accident victim mulls hold departure order vs suspect, GMA News, March 3
Outpouring of grief at cremation of Amiel Alcantara, GMA News , March 1
Ateneo pupil's dad: I could not bear seeing the face of my son's killer, GMA news, February 27
Suspect in Ateneo road accident may spend weekend in jail, GMA News, February 27
Ateneo stude's dad meets suspect , Inquirer, February 27
STATEMENT ON THE DEATH OF ATENEO DE MANILA GRADE SCHOOL STUDENT AMIEL ALCANTARA, February 26
Update on Losing Amiel Alcantara by Cathy, February 26
Ateneo student killed on campus by Inquirer. net, February 26
Pupil dies after being run over by van by Inquirer.net, February 25
Van Kills 10 year old boy inside Ateneo Campus by gmanews.tv, February 25
Grade 4 Ateneo student dies in car accident: report by ABS-CBN, February 25
Losing Amiel Alcantara – Ateneo Grade School Parking Lot Accident, February 25
how a cellphone contributed to the death of Amiel Alcantara, February 25
Amiel Alcantara, grade 4 student dies in a freak vehicular accident at the Ateneo : one view on what happened
The Wake
From Amiel's teacher, wawam:
February 25, 2009
TO : THE UNIVERSITY COMMUNITY
Norberto Maria Luza Bautista, SJ
Headmaster
RE : DEMISE OF MASTER JULIAN CARLO MIGUEL (AMIEL) ALCANTARA
FR : NORBERTO MARIA LUZA BAUTISTA, SJ
Please pray for the repose of the soul of Master Julian Carlo Miguel (Amiel) C. Alcantara of 4-Manobo. Amiel died of head injuries due to a vehicular accident yesterday afternoon outside the AGS holding area.
His body lies in state at the Chapel of the Holy Guardian Angels, Ateneo de Manila Grade School.
Wake masses will be held at 7:30 PM from Wednesday, February 25, 2009 to Friday, February 27, 2009.
The remains of Amiel will be cremated at the Arlington Crematorium, Araneta Avenue, Quezon City at 2:00 PM on Saturday, February 28, 2009. There will be a mass at 11:00 AM at the AGS Chapel before the body is brought to Arlington for cremation.