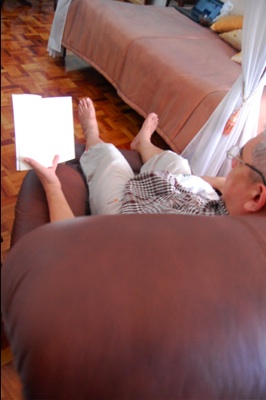 I blame Butch Dalisay for the La-Z-Boy which I gave as a Christmas gift to my husband. I showed Butch' La-Z-Boy entry to my Butch and ever since, my hubby kept asking "so will you buy me a La-Z-Boy?"
Nah, I would starting calculating figures and shake my head. I had thought of buying him the latest macbook because his laptop though still alive, dates back to 2002 and is agonizingly slow.
So, why did I find myself in Blim's Furniture store on December 22 in front of leatherbound Rocker Recliner chairs? It was like each chair was teasing me:
Hi, would you like to sit on me?
I shot back silently. Sure, let me try each one of you and convince myself that you are worth buying for.
I gazed at every model of the La-z-Boy Rocker Recliner chairs. You would think each chair is created the same. The cheapest is around 28,000 pesos but it is smaller in width and made of fabric. Some are leather match meaning the chair itself is made of leather but the sides abd back are leatherette. Other chairs are made of pure leather while others combine a massage feature. Definitely the six-figure range is out of my league. I chose the Larson because of its classic looks, comforting pillow back, flared arms and alluring curves. As I sat down on the Larson, I could now imagine my husband languishing on it, stress from work washed away as he rocks himself to comfort. I mean, this is the most sensible gift to my husband , the breadwinner for years. He had worked himself off for years and needs to relax at his sanctuary, his corner of our room.
My mind started to wander. Is the macbook a better gift for my husband than a la-z-boy?
Yes, hubby would be delighted with the latest gadget but after awhile, I am sure the macbook will sit in the closet among the cobwebs just like his IBM laptop. Like a new toy, the novelty will wear off. The Larson chair, though not cheap is definitely more affordable than a macbook. The chair comes with a 10 year warranty and since it was designed in 1929, it won't become obsolete like macbooks.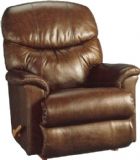 I surprised myself as I turned to the salesman Can you deliver the la-z-boy by December 24? The salesman affirmed and promised a December 24 delivery. I added that if it didn't arrive on December 24 that I'd cancel the order. I was making too many excuses to convince myself that it may not be an ideal gift. I had planned that the Rocker Recliner would be in our room ( tied up in red bow with my Christmas card) when hubby was out for the grocery but as always, not everything goes as planned.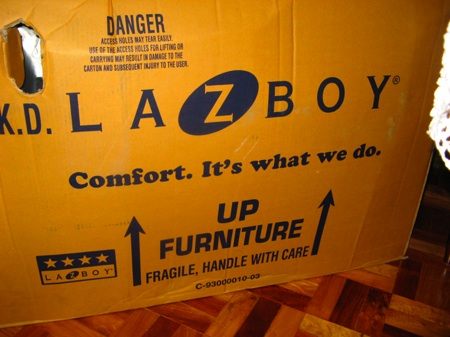 The la-z-boy arrived at 5:30 PM just as Butch went downstairs.
Imagine his surprise, when a huge box poked at his face by the front door. He was tongue-tied for awhile until the Reclina-Rocker got assembled. What a perfect combination to our Filipino-themed bedroom-sanctuary!
Butch laid down on the comforting chair, closed his eyes . I thought I saw a wicked smile escape on his lips. A few minutes later, he stood up, muttered and kissed me for the gift. Words were not enough to describe his joy. I understood.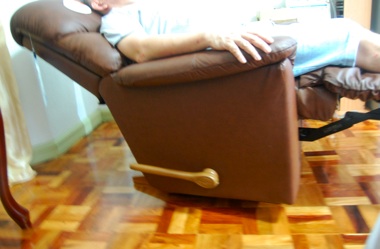 Butch will be enveloped by the chair's unconditional love. This chair will understand his stress. It will be attentive to every twinge of pain and weariness in his 49-year-old body. He could recline there and read books or nebulize all day and the chair wouldn't say one word back, except maybe soothing words like ""It's okay. Get some rest. Husssshhh."
This la-z-boy is going to be the perfect antidote to all the hard work my husband goes through every working day and his faithful companion for the rest of his working life.
I just wished the chair's 120kg weight limit would include mine so I could cuddle with him at times.
My husband has more to say in The Chair That Changed My Life.