Wasn't it just 10 years that I last hugged my beautiful boy on a breezy, sunny day at the beach? Though the searing pain in my heart is not as sore as it once was 10 years ago, the scab sorts of falls off on anniversary dates. Luijoe should have been 16 years old today. I created this video tribute of his life and last birthday celebration 10 years ago when he was just a cute 6 year old boy.


(Video Link)
I often wonder how he would look like today. Would he have been taller than my husband? Would he have the same gleaming smile? Would he have many girlfriends? Would he be close to his two sisters? Would he have a messy room? Will he still give me a bunch of flowers with an "I love you" note? I can't imagine because I will always remember him as an innocent and beautiful 6 year old boy whose death changed my life in positive ways I never could imagine.
I know some of you might be uncomfortable seeing this video. Remembering a loved one even if many years have passed by does not mean one is not moving on. It means you continue to love even after their death. Some of you may know others out there hurting from a loss of a loved one. Maybe one's beloved spouse, father, mother, sister, brother, child, relative or friend. I want them to know that there are creative ways on handling grief. Creating a video tribute is my creative activity to process grief on difficult days.
Creative activity following a loss can be very therapeutic and works on several different levels. Creativity encourages us to find ways to express our deepest feelings and helps us to focus on what may be very confused emotions, so that we understand them better. In grief we often feel as if we have lost control over our lives, and the satisfaction gained from the creative process gives us back a sense of achievement and self-worth.
Those with artistic talents find their own peace and fulfillment in painting , or sketching in the countryside. The total absorption required for artistic endeavors is a welcome break from the strenuous business of grieving. Art can be combined with craftsmanship too to produce special anniversary cards, in much the same way as for example candles, bookmarks, or picture frames. Those with a special skill could use this talent to produce something of lasting significance in their child's memory, for example a bookbinder may bind their collection of poems, both as a tribute to the child and a symbol of the passage of that stage of their grief.
I created this video to show that death cannot take away the love and memories in my heart.
Death ended Luijoe's life but not his relationship with my family. Even if there is no birthday boy to celebrate his 16th birthday with, a spiritual bond exists between us. He is alive and well in my heart and mind.
The cliché is true; that with time, the wound is not as raw as the day he died. I stare at little boys running around, and I see my son in them. I smile at the sweet memories, of his hugs which came with a bunch of flowers as a surprise. ""I love you so very much, Mama," he'd cry out.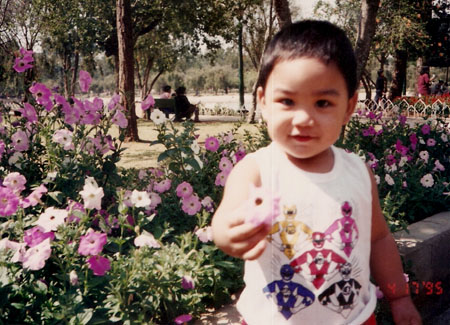 Today, we are celebrating the joy of Luijoe's life, rather than the pain of his death.