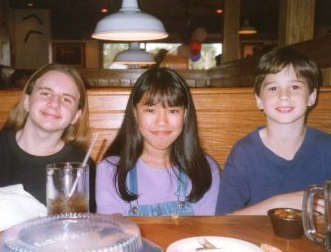 Twelve- year old Lauren and a couple of her keypal friends started an advice column for their club members (Keypals Club) in 1997. I was looking at the now defunct site because Lauren told me to plug her new blog. I am sure that gives a clue to her new site. Before I plug it , let me show you that advice page which was started in 1997. Aww, her advice to this I have never had a boyfriend made me smile.
The age when you should start worrying about not having a boyfriend is when you're 20. Now there's a problem. Don't mind those peeps that are shocked because you don't have a boyfriend! Besides, if you have a boyfriend this young, chances are, you will have a million more boyfriends and getting married would be difficult because boys don't like "playgirls" or a girl who has a billion boyfriends. Enjoy your youth.
That's Lauren as a 12 year old. Almost ten years later, she worries that she will never find The One. Despite her fears, and a broken heart, she is using this humbling experience to help others in her new blog which she co-writes with her best friend, Kristel.
Presenting nogirlydrama.com,a lifestyle , sort of advice column.
We discuss dating, relationships, friendships, work, and everything female-related in its raw, non-sugarcoated form.

Our goal is to provide some sort of girls comprehensive guide to making it in the Real World. Because unlike Reality Bites, you don't get your happy ending when your hot yet emotionally immature guitarist friend suddenly announces that he's been madly in love with you all this time.
Just because her new blog is female-centered, doesn't mean that members of the male demographics are completely excluded.
And while we run around like headless chickens when it comes to our romantic dilemmas, we're actually pretty damn clever at helping fix other peoples' messes, Lauren announces in the Launch of her Lifestyle blog. Moms can even seek the perspective of the young generation when it comes to issues about their own daughters or sons .
So if you need love, friendship and relationship advice, just visit nogirlydrama.com.
*Photo taken in Kansas City , Missouri, May 1999 with her keypal Derek and his brother.