"Ever since I was born, Daddy has been the best father you could ever imagine. And I just wanted to say I love him — so much." — Jackson's daughter, Paris-Michael, who broke down in tears."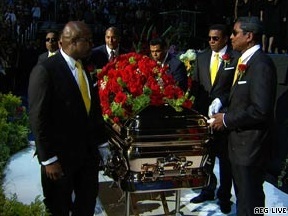 Photo Credit via cnn.com
I gaze at the TV as I see the casket of Michael Jackson as it is being wheeled out of Forest Lawn Memorial Park in Hollywood Hills en route to the Public Memorial at Staples Center. Bedtime beckons me but there is one part of me that wants to watch the live coverage of Michael Jackson Memorial . To keep myself awake, I will write about the creative use of grief.
I know not all of you are Michael Jackson fans but I am a Michael Jackson fan so excuse me for blabbing away. Yes, he might not be a family member and my grief is so negligible compared to the devastating loss his family is experiencing. Nevertheless, grief is an emotion. We all had lost someone dear to us and even if the person is not a family member, the grief experience is very real. I established a connection with him through his music during my teen years in the seventies. I bet most fans feel the same way. No wonder you see the outpouring of grief. His music just touched their lives as it did mine in those crucial teen years.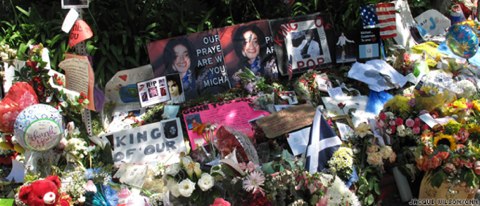 Fans of Michael Jackson are pouring out their grief through music and dance, impromptu shrines at symbolic locations and heartfelt remembrances online. A few create video tributes over at youtube.com. Now, a stadium full of selected fans will have the chance to actually see his casket and the memorial services. There is something about the casket that hits reality even more when the death certificate is right there in front of you.
There is something about death that needs to bring closure on those left behind. People process their grief in their own way at their own time. One way towards the positive resolution of grief is creative activity. Even after the Michael Jackson Memorial, some fans may still seek ways to process this grief. Creative activity following bereavement can be very therapeutic and works on several different levels. Creativity encourages us to find ways to express our deepest feelings and helps us to focus on what may be very confused emotions, so that we understand them better. In grief we often feel as if we have lost control over our lives, and the satisfaction gained from the creative process gives us back a sense of achievement and self-worth.
It is one reason that I created a memorial site for my son at angel-luijoe.net, my dad, my brother, Oscar and my brother, Ruben. I still have to make for my mom. Like Michael Jackson fans, I uploaded poetry, anecdotes, photos, videos, memories, and tributes about my loved one. It is not as grandiose as the Public Memorial of Michael Jackson. From my experience, a memorial whether online or an offline acitivity establishes a measure of comfort for the searing pain of loss.
Whether or not our chosen creative activity is connected with our beloved's life or death, we will have become more in touch with our own feelings and gain a great deal of satisfaction from our achievement.
His song Gone too Soon leaves me poignant.
Born To Amuse, To Inspire, To Delight
Here One Day
Gone One Night

Like A Sunset
Dying With The Rising Of The Moon
Gone Too Soon

Gone Too Soon
My loved ones live forever in my heart and in my memories.
Michael Jackson lives forever in his music. Let's remember his favorite song, Smile
Smile though your heart is aching
Smile even though its breaking
When there are clouds in the sky, youll get by
If you smile through your fear and sorrow
Smile and maybe tomorrow
Youll see the sun come shining through for you
Were you able to watch the live coverage?
The Public Memorial
I watched it till the end and good thing I did. His daughter, Paris Michael Katherine Jackson, the 11 year old daughter of Michael Jackson closed the memorial with this heartfelt message
Ever since I was born, daddy has been the best father you could ever imagine," the 11-year-old girl said. "And I just wanted to say I love him so much."
Here is the youtube video of Paris Katherine as she talks tearfully of her beloved dad.

Those words really made me tear. All the tributes about Michael Jackson centered on being the greatest entertainer in the world or a good friend but for the tearful Paris, Michael Jackson is the best dad ever. Brooke Shields also made me tear a bit but Paris Michael Katherine words just hit me and the tears just flowed. I liked the ancecdotes Brooke shared to all of his fans
"Michael always knew he could count on me to support him or be his date. … We had a bond and maybe it was because we both understood what it was like to be in the spotlight from a very, very young age. I used to tease him and say, `I started when I was 11 months old. You're a slacker. You were like 5?' Both of us needed to be adults very early, but when we were together, we were two little kids having fun. … M.J.'s laugh was the sweetest and purest of anyone I've known."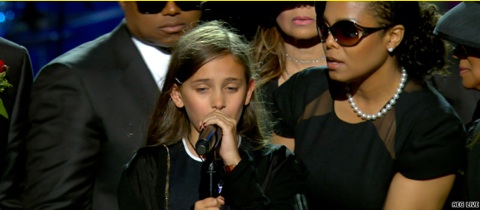 I feel sad because Michael Jackson got ridiculed, shamed and judged by the same media that is covering this memorial. He is now at peace. Rest in Peace, Michael Jackson. You are the greatest entertainer, the greatest friend and the best dad anyone can ever imagine.
You have been redeemed during this beautiful and meaningful memorial and tribute.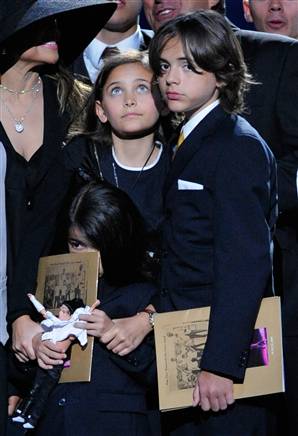 Photo Credit from Msn.com
Here is a video of the Michael Jackson Memorial or you can jump ahead and Select video clips.