Irrespective of who wins, I believe the biggest winner tonight is the blogging culture in the Asia Pacific itself– Ming and Tim, Founders of Nuffnang.com
It's 1:42 AM and I have just uploaded the photos of the biggest blogger event I have ever attended. I loved it. The event was well organized, food was great, and meeting bloggers from 3 other countries is something different from other blogger events attended so far. The Nuffnang Asia Pacific Blog Awards gathered over 400 bloggers from Singapore, Malaysia, Philippines and Australia. Around 31 Pinoy bloggers flew all the way to Singapore.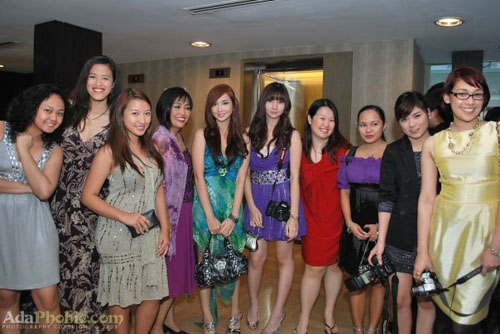 Photo via Ada Lajara. Glamorous Filipina bloggers gather at the Link Hotel before proceeding to the Pan Pacific Hotel for the Awards Ceremony
After 2 years of community building, Nuffnang.com presented the first ever Asia-Pacific Blog Awards at the Pan Pacific Hotel.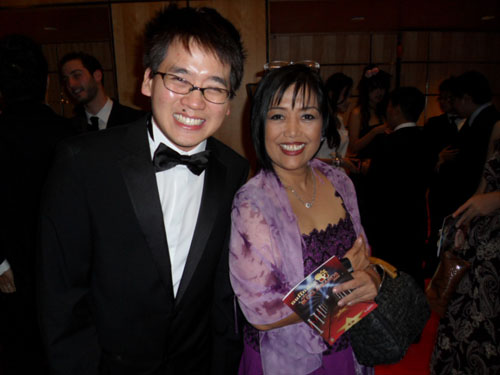 with Nuffnang co-founder Tim
Honoring the best of the blogosphere in the region, they ran 2 months worth of nominations and campaigning and culminated last night's award ceremony. It is also the first time to see bloggers dressed in fancy or classy attire.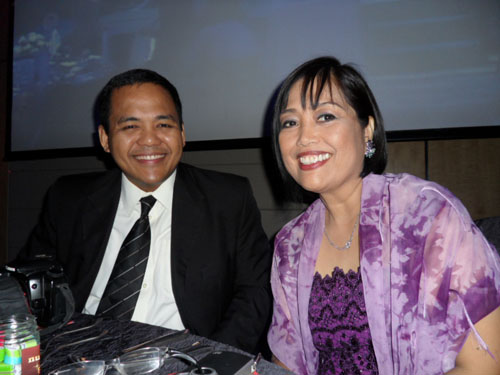 Anton and I loved the formal wear for once.
But see, the Aussie delegation were even more glamorous.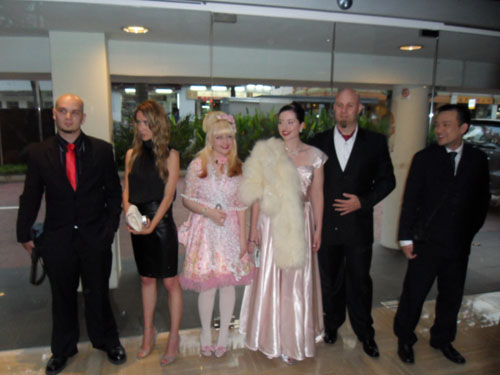 Meeting a few Malaysian bloggers was interesting. I like their formal wear too.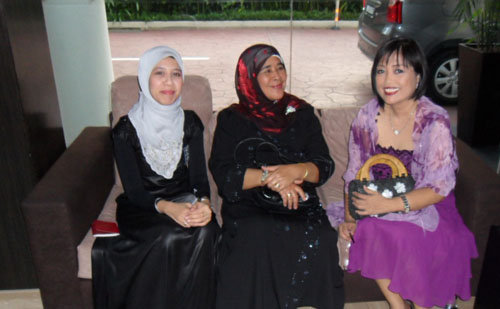 Of course, the gorgeous Gosengfiao sisters and Jehzeel in black tie affair gave a touch of elegance.

With Alodia Gosiengfiao, Ashley Gosiengfiao, Jehzeel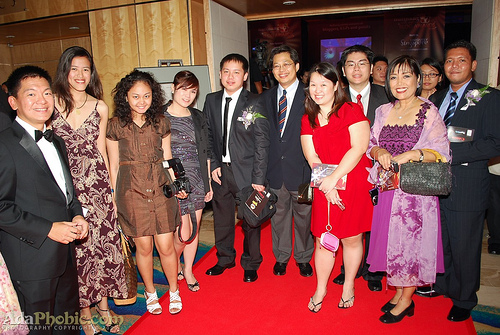 Photo Credits to Ada Lajara . Philippine Nuffnang President Eric Ramirez with Filipino Bloggers at the Pan Pacific Hotel
Congratulations to Ferdz Decena for winning Best Travel Blog for his ironwulf.net. He also won in the First Philippine Blog Awards. Ferdz is truly a winner.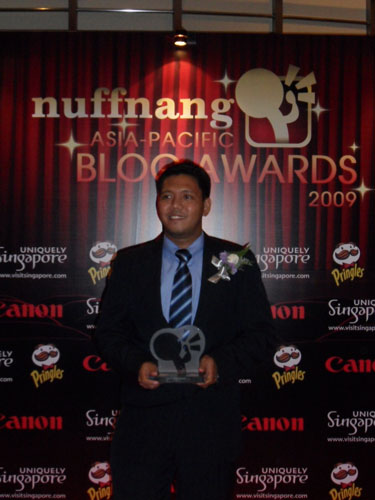 I know the challenges faced when organizing Blog Awards and one is forever grateful to the sponsors. One of the major sponsors was Pringles which held a viral video contest and gave a prize of 5,000 singapore dollars for the winner. Here is that winning video:
The Nuffnang Asia Pacific Blog Awards criteria in determining the winners differ from the criteria that we set for the Philippine Blog Awards which is mostly based on the judges and a set of criteria. I noticed that content was not a main winning criteria (around 40% including relevance to category). Popularity for one was based on the 50% voting from readers. When I asked Xiaxue, the secret of winning three awards (Best Original Blog design, Best Regional blog, Most Influential Blog), she said that she asked her readers to vote for her. Well, but that is only 50% but when I asked her secret for her popularity, she said "just being myself" . I have yet to read her blog entries though.
Video I took of the Asia Pacific Blog Awards

In any case, I still believe that content should be the overall factor in determining a winner. Sure, the blog may not be popular but after the recognition, the blog gains a bit of fame and popularity. I hope Nuffnang Asia Pacific Blog Awards give a bit more weight to content rather than popularity in future winners. Is the content making a difference in Asian Pacific region? Owning unique content is more valuable than owning the blog or the design. A blog's content is even more valuable if one can open it up for broad and creative use and making a difference in the world. Or perhaps just giving value. On the other hand, Filipino bloggers have the distinct advantage of freedom of speech compared to some of our Asian neighbors. There lies the difference in diverse content among our Asian counterparts.
Photos
My Photos of Asia Pacific Blog Awards
Photos from Dustyhawk (Dustyhawk)
Other Entries
Ironwulf.net En Route is Nuffnang Asia-Pacific Blog Award's Best Travel Blog 2009 by Ferdz Decena
Nuffnang Blog Awards Gala Dinner! from Kuala Lumpur
Nuffnang Awards – A View from Serge (Malaysia)