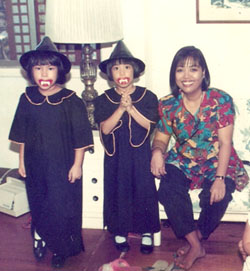 What happened to Halloween day? Why is Trick or Treat celebrated way earlier than October 31? Where is the fun in moving it to an earlier date? Those were some of the questions my kids asked me in 2006. My three children celebrated Trick or Treat only on October 31 whether it was a weekday or weekend. Then that all changed when our village changed the date because it was just convenient for them to facilitate the kids in costume. My kids often say that it is like moving Christmas day to December 20. Something like that.
Wikipedia states that
Halloween (or Hallowe'en) is an international holiday celebrated on October 31. Halloween activities include trick-or-treating, ghost tours, bonfires, costume parties, visiting haunted attractions, carving jack-o'-lanterns, reading scary stories, and watching horror movies.
I do not understand. Maybe I am trapped in the American tradition that my husband brought to our family since we first celebrated it 25 years ago. Maybe the Philippines has its own version on how to celebrate Halloween.
I remember the day my dear husband reminded me to dress up the little girls into witches for Halloween. "Halloween?" I thought Halloween was only done in the Western countries. " Yes you have to dress them up as witches". As a little boy in the late sixties, he pranced around the neighborhood begging for candies and yelling "Trick or Treat" . According to him, the Halloween "Trick or Treat" originated in the Philippines during the sixties when the Americans living in the village started the tradition. In the early nineties, Halloween was not yet commercialized. No little kids doing trick or treat inside the malls.
The Trick or Treat was limited to Ayala Land villages, where most American expatriates lived. There were a few masks and simple decors in National Book store but that was it. No costumes. I had to be creative. I designed a witch costume with yellow piping and a dressmaker executed it. A balikbayan sister from San Francisco brought in the hat, the candy corn candies, the fangs gum for props.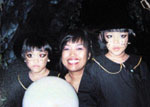 We drove all the way to visit the kid's grandparents in Alabang just for the spooky Halloween experience. As usual, the beaming stage mother dressed up her adorable girls as cute little witches. The Trick or Treat party at the club was fantastic. The kids were dressed in typical Halloween costumes like vampires, ghosts, witches, and devils or even pumpkins.The eerie decors added to the thrilling experience.

The Trick or Treat adventure in this swanky Alabang village is something else. The houses compete with each other on the scariest theme. Most of these houses had tricks. In one house, the kids were terrified of the candle-lit pathway that led to a vampire rocking on the chair. Complete with spine-tingling music as you walk towards the vampire, it even freaked me out. One of my daughters scurried away as soon as she saw the ghoulish figure. For many years, the girls spent their Halloween with their grandparents in this Alabang village until Luijoe arrived in our lives.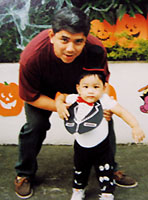 Luijoe's first Halloween in 1994 was spent at his aunt's village. She started the Trick or Treat experience in her own village. 1994 saw the year when malls and the like started to sell costumes and more Halloween decors. My husband just adored his little boy. It's no wonder that Halloween is such a painful experience for my husband. The past years, he used to hibernate in our bedroom avoiding the little kids knocking at our doors. But that is just how he was then. I love giving candies to these kids as I imagine my precious Luijoe hovering nearby. I am sure Luijoe is around me all the time.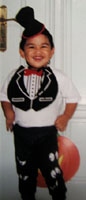 My little boy posed his cutest smile ever. "sigh" I miss my boy. As I gathered the photos for this entry, I could not help turning misty-eyed pouring over these precious memories . "Was he really that cute?" "How I wish I can just rewind the past and hug him all over again!" Pictures and memories are what is left of him. Of course, his love rings true in my heart. But yes, I digress. And the tears well up again as I write this.
The girls who were then in their pre-teen years continued to be witches until their early teens. That's when they designed their own costumes or innovated their wardrobe.


Luijoe's last two Halloween was dressed up as a little devil. How he liked playing the naughty little imp to the hilt. This little devil is now my angel . His impish grins just makes me smile. Kids are just so adorable aren't they? I miss my kids as little kids and being the stage mother fussing around them. Now that they have grown up, I'm just there when they need me.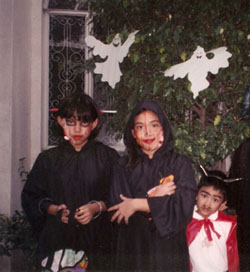 After
Luijoe died in 2000
, the girls continued the Trick or Treat tradition with their younger cousins. Costumes are now based on themes other than traditional horror, such as dressing up as a character from a TV show or movie. Ahhh…. I miss the traditional Halloween costumes. L in this photo is behind the fence because she was traumatized by an 11 year old bully who grabbed her whole bag of candies. Demand for candies is just so much that after an hour, we always ran out of treats.
Our kitties are not exempt from trick or treat.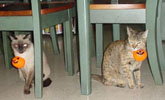 The girls have outgrown the costumes but the ghost story telling or watching horror movies never dies. I don't have to don the witch' hat and spook them out. I don't need to line the garage with eerie candle-lit lighting. No need for the masked monster by the rocking chair. They can entertain themselves now.
So that's how my family celebrate Halloween. What's your tradition?