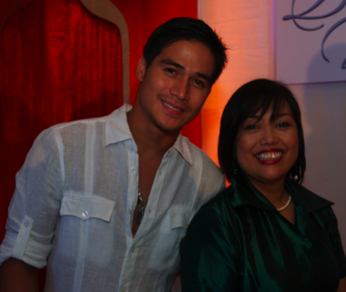 Photo courtesy of Ferdz Decena
Cathy once interviewed Piolo Pascual for a showbiz magazine and she swears that Piolo is just drop-dead gorgeous. Really? I am envious. guapo ba talaga? She said I had to see him in person to appreciate his beauty. Haha. When will that be unless I stalk him at his favorite gym!
I am the most un-showbiz person I know. I am not an avid fan of any celebrity but Cathy's description of Piolo piqued my curiosity. I think the first time I saw Piolo Pascual was in Dekada 70 and I was more impressed with his acting skills than his looks. I finally had the opportunity to meet him and Marian Rivera as the latest endorser for Bluewater Day Spa.
Piolo is so charming, er gorgeous looking guy to put it mildly. A dating game was up and female members of the media participated. Someone conveniently persuaded me to join. "No way..and be caught on TV!" Maybe if this was a private party with no media coverage, I'd heartily agree.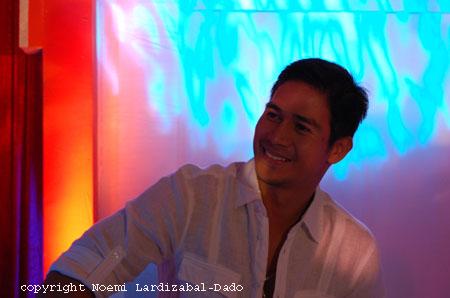 Marian Rivera dating game was up next and I volunteered Travel Photographer Blogger, Ferdz Decena who was game enough to compete with 3 other men.
And guess who won?
Ferdz Decena, of course!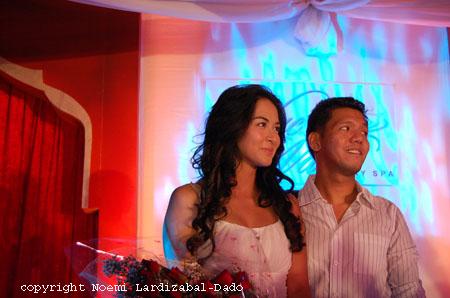 The prize is a private moment to interview Marian Rivera in a tent all by themselves! Ferdz never got to interview her because media ambushed Marian inside the tent. How unfair that Ferdz never really claimed his prize. Is this the case of traditional media overpowering new media publishers with utter disregard of the rules of the dating game? Wait for your turn. Or is it new media publishers not being assertive enough?
Oh well, at least we had loads of fun and a chance to have this photo op. Simple joys.
Asides
Speaking of Ferdz, I'd like to invite you to the first solo exhibit of Ferdz Decena called Living By Water Exhibit