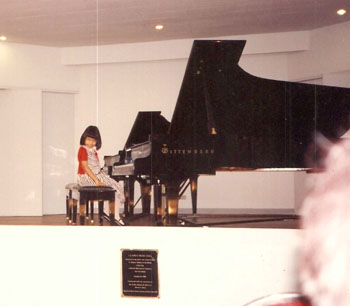 My stage mother years is one of my most treasured moments with my little girls. Those were the days when the mother in me dreamt of their future. The stage mother years span from the time L was a precocious 4 year old painist till her early teens. From then on, my role was relegated to a part-time stage mother when they had random performances here and there. I call myself retired because I don't fuss like a mother hen like in the good old days.
As a stage mother, I watched my girls during dress rehearsals, carry their bags, lug their water bottles, bun their hair, fix their costumes, wipe the sweat behind their backs, accompany as chaperon here and there all over Manila, USA, Canada and what not. In one of those "dream-like" fantasies, I always envisioned my girls to be classical musicians. M with her soprano voice flowing through the concert hall. L with dextrous fingers playing nimbly with the piano keys. Sweet relaxing classical pieces!
The girls continued playing the piano and cultivating their other artistic talents during their growing up years. On L's sixteenth year, she asked for an electric guitar.
My husband coughed I imagine you wearing a beautiful gown sitting on a stool while you play the cello
My daughter laughed ""That will not happen dad. I want to be a ""rock star""".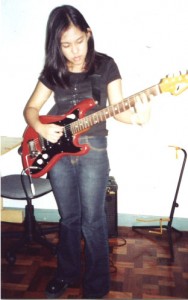 Pooof, she's not going to be a concert pianist after all. As a mother , it's natural to have dreams for our children but I would never impose my own unfulfilled dreams on them. I decided I'd be supportive.
L soon formed an all girls' band together with friends during her college years and shifted to other bands after graduation. Oh my, I don't think I can take the noise! On one occasion, I got to watch a gig in one of those bars and I swear I can only take 2 minutes of the loud acoustics.
Maybe the inner child in L still wants me to watch her during her performances because I'd arrive in time to watch her play in her band. But these days, I wait to be asked if I can watch. I don't fuss like crazy anymore.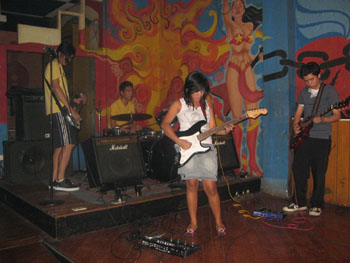 One invite is the The Banana Gangbang Rock Festival on May 3 at the Bela Bar, Greenhills. How could I not resist? L will be playing with not one but two bands that evening (Zoo and Lose Your Beer Belly). Expect to be entertained by editors of The Man Blog…Gino Carteciano's poster-making skillz, Bim Barbieto's hosting skillz, and music from the bands of self-proclaimed internet celebrities Mike Villar, Ade Magnaye and Marco Palinar.
Setting aside my role as a retired, beaming stage mother, I can't help but encourage you to watch the rock musical concert not just because my daughter is there. The Man Blog despite their use of fashionable language are undeniably witty, provactive and funny bunch of intellectual freaks. Read The Banana Gangbang Rock Festival. Tickets cost a hundred bucks but are consumable.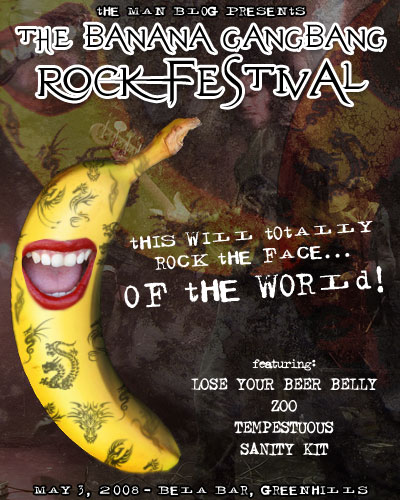 I know the rock music is completely different from what I envisioned my sweet looking daughter to be. But that is the kind of music she wants to play. Though it may not be Bach , Chopin or Handel , it's still music.
Go to the The Banana Gangbang Rock Festival. Have some fun. Loosen up a bit. Enjoy life!
—-
Asides
Take a culinary adventure at The Tasting Room on May 1-31 at the Lagoon area, Greenbelt 3, Makati City.
Specially designed menus are reasonably tagged at a price ranging from P350 to 999. This is to entice foodies to have a taste of quality dishes – from appetizers to desserts— prepared by talented chefs from participating establishments, such as: Kai, Tropezz, Bubba Gump, Solihiya, Max Brenner, Haiku, Italianni's, Cyma, La Maison, Capricciosa, Mezze, Nuvo, Gaudí, Fish & Co. and Mr. Rockefeller.