I encounter all sorts of stories about children's death in the course of my advocacy work in The Compassionate Friends, a grief support group for those who have lost a child. I often hear the word "if only", "what if?" and so many words of regret and guilt. I can't help but cry along with their heartbreaking stories. Sometimes, cause of deaths are accidental, congenital or some complication of a disease. In the Philippines alone, the statistics are alarming.
According to the World Health Organization (WHO), up to 1 million children under the age of five die from pneumococcal disease every year. Pneumococcal disease includes serious, invasive diseases such as meningitis, pneumonia and blood infection (bacteraemia), to less severe, but highly prevalent diseases, such as otitis media, sinusitis and bronchitis. The WHO estimates reveal that over 90% of children's deaths caused by pneumococcal disease occur in developing countries. Philippines is listed in the top ten of countries with this high mortality rate.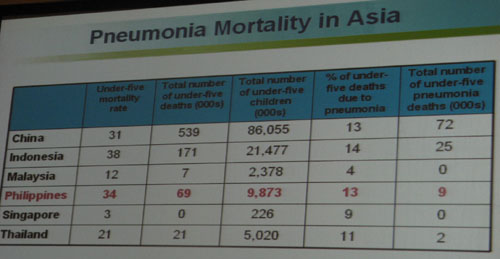 Each year, around 1 million succumb to Invasive Pneumococcal Diseases (IPD); including 82,000 Filipino children. WHO and UNICEF further underscores the importance of IPD by identifying its bacteria, Streptococcus pneumoniae, to be the leading cause of Pneumonia. In the Asia Pacific region alone, 98 children die from Pneumonia every hour – more than AIDS, malaria and measles combined. My friend lost her 4 year old daughter due to this type of pneumonia. Thinking it was just high fever and bad cold, she didn't know that one of her lungs was already filled with water. At that time, she wasn't aware that there was a vaccine against pneumonia or it was even there.

Just to give you an idea of Childhood Pneumococcal Disease, here is a backgrounder:
Childhood Pneumococcal Disease Backgrounder
It is unfortunate that our children are still dying and suffering from vaccine-preventable diseases such as pneumococcal disease. If only parents are made aware of these vaccines. I got introduced to the next generation pneumococcal vaccine through the media launch of GlaxoSmithKline (GSK) new 10-valent next generation pneumococcal non-typeable Haemophilus influenzae protein D conjugate vaccine (PHiD-CV). This next generation pneumococcal vaccine provides children with dual-pathogen protection against Streptococcus pneumoniae (S. pneumoniae) and Non-Typeable Haemophilus influenzae (NTHi) , two major causes of childhood infections and their complications. With active immunisation, children in Asia can be better protected against serious, life-threatening childhood diseases such as invasive pneumococcal disease (IPD) and acute otitis media (AOM)2 .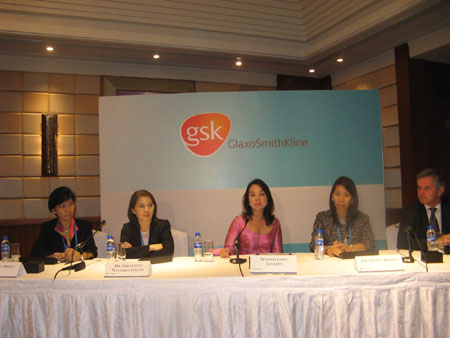 The next question is the affordability of this vaccine. I was told that this vaccine will be 40% more affordable than the existing vaccine in the local market. It is my hope that the government also finds way to provide this vaccine to the poorest sector of our society. Not only should we encourage mothers to vaccinate their children but to encourage them to breastfeed them as long as they can. The antibodies in breast milk may boost the immunity of their children.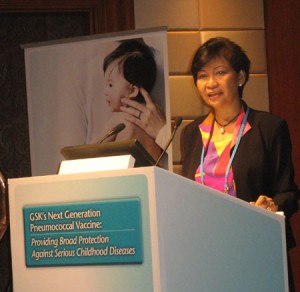 Dr. Lulu Bravo
""It's good news that GSK's new pneumococcal vaccine can now provide broader protection for children in Asia." says Professor Lulu Bravo, Vice Chancellor for Research & Executive Director, National Institute of Health, University of the Philippines Manila, and Chairperson, Asian Strategic Alliance for Pneumococcal Prevention (ASAP). She adds, ""Pneumococcal disease is the leading vaccine-preventable disease in children under five years old. More needs to be done to better protect our children. More infants should be vaccinated against pneumococcal disease to avoid needless suffering, hospitalisation and doctor visits."
GSK gave its assurances that they are committed to making their vaccines as accessible to as many people as possible and they will continue to work in partnership with other stakeholders to protect more children from pneumococcal disease in Asia.
Now that is certainly good news. Would you take advantage of this new vaccine for your child?
GSK's next generation pneumococcal vaccine received approval in the Philippines on 9 July 2009. It is indicated in the Philippines for the active immunisation of infants and children from six weeks up to two years of age against disease caused by S.pneumoniae strains 1, 4, 5, 6B, 7F, 9V, 14, 18C, 19F and 23F and against acute otitis media caused by NTHi.2
About the vaccine
GSK's new 10-valent, pneumococcal conjugate vaccine has an innovative design. It contains polysaccharides derived from 10 different strains of pneumococcai bacteria most of which are conjugated to protein D from NTHi. GSK's clinical development programme for the vaccine includes trials in Europe, as well as Africa, Asia and Latin America. As recommended by World Health Organization (WHO), the assessment of potential efficacy against IPD has been based on a comparison of immune responses to the seven serotypes shared between GSK's vaccine and the currently licensed vaccine, plus additional serotypes 1, 5 and 7F. Importantly, the new vaccine's immunogenicity, safety and reactogenicity profile is comparable to the currently licensed pneumococcal vaccine, and compatibility with major childhood vaccines has been demonstrated in co-administration studies. The recommended primary vaccination schedule is three doses, plus a booster.