My 41 year old baby brother in Missouri (I still call him baby brother because I took care of him) wants me to be his wedding coordinator for a church [tag]wedding[/tag] in the Philippines. My brother and his wife did not have a church wedding 14 years ago due to financial challenges. Now that he is a successful neurologist, he dreams of a marriage with God's blessing. He has indeed been blessed through the years with 4 lovely children, a lucrative medical parctice and a devoted wife. I told him that weddings in the Philippines is not the same as it used to be. I started to look around for wedding fairs. The last time I attended a wedding bazaar was in 2004 for Lauren's debut plans. Just looking at the prices for photography, venue, catering , cake and other perks for Lauren's debut could easily cost 150,000 pesos ($2,500.00) at the least. My daughter dubbed it "A not so typical debut celebration" and happily, the total expenses were only 80,000 pesos ($1,500) for 100 guests. Divisoria is my friend. My brother was impressed that I coordinated a "sort-of-grandiose" celebration . But weddings are different! There are a 101 considerations. I told him that I would shop around for a wedding events coordinator who will coordinate with me.
Together with my sister-in-law, we attended the First Philippine Wedding Congress in Megatrade Hall, SM Megamall last friday. I know my brother will love the Fernwoood Garden in Quezon city or the The Mango Farm in Antipolo. Based on my talks with an events organizer, the budget for a simple wedding with little frills is easily 200,000 ($4,000). Yikes. I started computing the video and photography, venue, catering, flowers, gowns, video clip showing etc and the expenses reached 400,000 pesos (over $5,000). Ohmygosh! My wedding in 1985 was only 30,000 pesos (less than $1,000) . Of course that's 21 years ago but our wedding was so elegant during those days. Anyway, I think my brother can afford it. He has to consider the airplane fare for his family of 4 kids too. Or maybe he should just get married in the states so I can have a reason to vacation in the midwest.
As I was showing my husband all the brochures of the wedding congress, we suddenly had this idea of celebrating our 25th wedding anniversary in 4 years. I don't want to spend so much for it but of course, I want to celebrate.
The Mango Farm?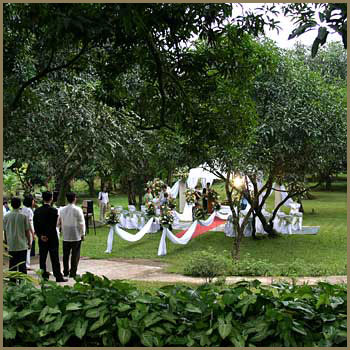 Or Fernwood Gardens?