You should also check out the 12 Cups with the Coffee Bean & Tea Leaf: Give in to Giving which offers a chance for you to donate to 12 charities and to receive a Giving Journal designed by renowed artists.
Updated– Click here for the Limited Edition Starbucks Coffee 2009 Planner.
View more photos of the Limited Edition Starbucks Coffee 2009 Planner.
View the 2008 Starbucks Planner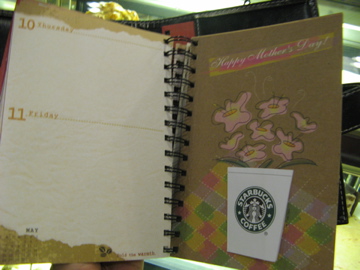 I kept getting these text messages from my daughter, M the past two weeks now "Don't forget to order starbucks coffee". Yesterday another text message came "I need 13 more stickers and I get the starbucks planner. whee" I showed the text message to a friend. My friend smirked "My two daughters are also crazy over their planners. I am looking for the supplier so I will just get from them". Curious over these planners, my friend and I transferred over to the Starbucks Coffee just to take a look at the sample planner. Flipping through the pages, it's no wonder my daughter is crazy enough to drink starbucks coffee to avail of it. Inside the pages are really cutesy keepsake envelopes. The planner seems like a mini scrapbook of sorts to hold in precious mementos. I can't possibly drink 13 cups of coffee! Even if I could afford to drink Starbucks coffee every single day, it's boring. Drinking in coffee shops is something I do once a week or whenever I meet a client. With this rate, it will take 3 months to complete the 13 stickers.
I don't want my daughter to starve and use her allowance to buy coffee.
Starbucks really knows how to increase their sales this Christmas season. Obviously they are targetting the young crowd. I told my daughter that I couldn't possibly drink all that coffee but I 'd increase her allowance for the next few weeks . I considered the costs involved.
The planner needs 21 stickers (9 are for Starbucks featured Christmas beverages while 12 for Starbucks beverages of your choice). The cheapest price for regular drink is 80 pesos (I think) so that's 960 pesos while Christmas drinks at 125 pesos minimum 1125 pesos for a total of 2085 pesos ($42) to complete the 21 stickers. How expensive. Looking at the bright side, Starbucks Christmas tradition is not just about increasing sales. They are in partnership with UNICEF's SparkHope project . Acutally the thought that one is helping a cause makes the expense a little bit worthwhile. Let's see how this works.
The Sparkhope project has a two-pronged strategy. While it equips barangays with the necessary facilities for a functioning day-care and pre-school education, it also enhances and augments the skills of frontline workers or the day care and pre-school teachers in the proper administering of activities and lessons. With this approach, Starbucks and UNICEF both believe that an enriching experience could be achieved for the benefit of the parents, teachers, and most especially the children.
So once my daughter fills up the specially marked card with 21 stickers, she will be entitled to redeem this wonderfully designed Starbucks planner. The good part is ,for every redeemed planner, P50 is donated to the Sparkhope project.
Concerned benefactors will not go on wondering where their contributions will be used. Each corresponding amount has an equivalent educational material, which will be provided to the communities. From as simple as story books to dolls and musical instruments and to the more functional playground, the amount donated to the project will be used to create viable learning centers equipped with the right educational materials for use of the children.
Now, that is probably one good reason to buy cups and cups of coffee at Starbucks minus the guilt.
L, my other daughter snorted "What a great excuse for greedy capitalists!"