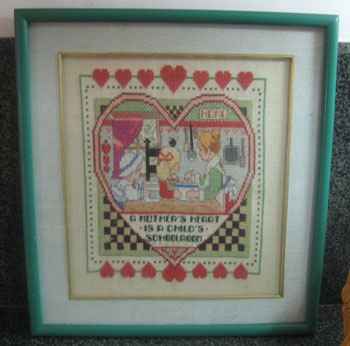 If you visit my kitchen, the first thing you will see on my granite counter top is this green-lined frame with a cross-stitch design labeled "A Mother's Heart is a Child's Schoolroom". I finished quite a collection of cross-stitch projects during those nurturing breastfeeding sessions with my babies. It stands there as a reminder to my children that I gave nothing but the best, that their first food was—breast milk. That memento rightfully belongs in my kitchen.
If I were a lactating mom in today's hi-tech age, maybe I wouldn't be cross-stitching. Perhaps I will be blogging on my macbook or designing breastfeeding advocacy websites. Breastfeeding was such a beautiful experience for me. During those breastfeeding times. I often caressed every single strand of my babies' hair, each toe and finger. It's a wonderful bonding moment that often took my breath away. I ignored my pediatrician when I refused the milk formula for Lauren. [tag]Breastfeeding[/tag] advocacy was not in place twenty years ago so our doctors often prescribed an infant formula before being discharged from the hospital. I held on to my belief that I could breastfeed. After all, breastfeeding is 90 % mental, emotional work and 10% physical. I focused on giving nothing but the best—breast milk.
I don't blame you if you say that you had no milk during the first day. Perhaps, you were not aware that supply during the first few days after childbirth arrive in small quantities. It's true, demand for breast milk is not that high yet for a newborn child. Our babies' stomach is just as tiny as the tip of our thumb. The problem is the mom loses confidence and turns to the bottle. Naturally, any mom wouldn't want their babies to starve. I don't blame you. We didn't know any better. Lack of awareness, family pressure, social taboos and popular misconceptions all contribute to why women are apprehensive to breastfeed.
Today, I heard the various breastfeeding advocacy groups in the The Barbizon Mommy Milkshake Marathon held at the Fort, Global City upon the invitation of GeiserMaclang. I had this warm fuzzy feeling as I witnessed the number of Breastfeeding advocacy groups that were present in today's event. What a devoted group they are!
""If you're bottle-feeding with the excuse that you're too busy and under the pretext that milk formulas have enough nutrients to produce the next Einstein anyway, think again."

These were the words of breastfeeding advocate Suzi Entrata, as she closed the first ever run dedicated to lactating mothers—the The Barbizon Mommy Milkshake Marathon. She is one of the women who participated in the 2 kilometer fun run that traversed the length of The Fort at the Bonifacio Global City last Saturday. She is one of the remarkable women who are stopping at nothing just to proclaim that: breastfeeding is still best for babies.

This event had the main objective of shaking popular myths about breastfeeding, most especially the notion that it is only for old-fashioned, stay-at-home moms who have nothing else better to do.
Recently, advocates have found another compelling reason why only a sixth of Filipino infants benefit from exclusive breastfeeding: poor-quality nursing bras that don't allow mothers to breastfeed comfortably and discreetly. I remember how difficult it was to shop for nursing bras. The ones available twenty years ago didn't support my breasts comfortably. Aren't the modern Filipina Mothers extremely lucky? There is even fashionable Mommy Wear for the lactating mom. One of the supporters for today's marathon event is Mommy Matters, supplier of fashionable and chic nursing wear. I remember how I used to buy those dowdy looking blouses that had buttons on the front but offered little protection for breastfeeding in public.
Despite the innumerable benefits of breastfeeding, only a sixth of all Filipino infants benefit from exclusive breastfeeding up to five months. Let's continue to support the breastfeeding benefits to the modern Filipina. We have been there and it's now our turn to encourage the new mothers that breast milk is the best for their baby.
Please spread the word about the [tag]Synchronized Breastfeeding Worldwide[/tag], a Filipino-initiated, record-breaking event that will show the world that breastfeeding is making a strong come-back and should be promoted.

Children for Breastfeeding and World Alliance for Breastfeeding Action in partnership with the Department of Social Welfare and Development (DSWD) and Technical Education and Skills Development Authority (TESDA) will stage Synchronized Breastfeeding Worldwide on August 8, 2007 at 10 a.m. at your local time. Read more at BreastFeedingworld.net
Mothers from countries such as Argentina, Australia, Bangladesh, Cameroon, Canada, Colombia, Cyprus, Dominican Republic, Greece, Hong Kong, India, Ireland, Japan, Malaysia, New Zealand, Singapore, the United States, Uganda, the United Kingdom, and Ukraine were expected to participate in the event.
For questions on Breastfeeding, contact
The Breastfeeding Clinic:
Your Partner from Pregnancy to Parenting
(Managed by two International Board Certified Lactation Consultants)
Nona D. Andaya-Castillo, IBCLC
Elvira L. Henares-Esguerra, MD, FPDS, RPh, IBCLC
Telefax: 632-889-1105
Mobile: 63-919-839-5555
Breastfeeding Websites in the Philippines