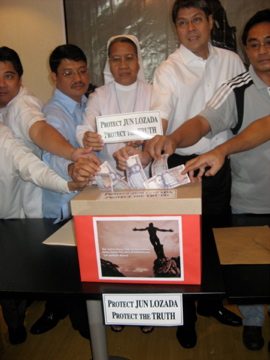 So many confusing messages circulate these days to manipulate the opinion of the people . There is the YouTube video on Lozada, Crying Babies then today, I receive a text message with Jun Lozada's cellphone number so I can text him and ask about the truth on the so-called Patriotic Fund that Sen. Jamby Madrigal allegedly paid so he could lie.
One thing is certain, I also seek the truth.
I just attended the press conference for the launch of the Ika-100 Taon ng Pamantasan, Isang daan Piso sa katotohanan organized by the UP SAMASA Alumni in support of the Sanctuary Fund Drive, (Protect [tag]Jun Lozada[/tag], Protect the Truth). Miej de Dios, a reader of my previous post, Modern Day Moms and Truth, Accountability and Reform suggested the press con as one action I could participate in. Aware of the diverse comments from readers as gleaned by the Jun Lozada Testimony entry, I wonder if Filipinos will support this drive. Some of these sentiments are:
It is easy to believe Lozada considering the zero credibility of the administration. But should we take everything he says hook, line and sinker? Shouldn't we think and analyze for ourselves and go beyond the surface? It is fashionable to go with the crowd, but it is not always the right way to go.
Then there is the other side of the spectrum:
whether we try to hide things,time will speak the truth!i believe the 'hero' speaks the truth and that we should support him.We,as filipino have been branded as corrupt simply because of what the people sitting in the government is doing.i dont know if corruption will really vanish but i hope it would for the sake of our fellowmen and country…for the future of our children.
Where am I now? I support the truth, of course! I am convinced Jun Lozada is telling the truth. I choose not to turn a blind eye or a deaf ear, but to be active, vigilant and responsible in demanding accountability from our institutions.
But pray tell me, how will truth come out if we are unable to protect the witnesses or whistle blowers? Sure, Jun Lozada had his share of corruption. Just because he is a sinner does not mean he is not capable of telling the truth. How do we know what is inside his heart. What if he really wanted to repent his sins and change?
I believe we should all be given second chances to be a better person. To change. How will our country change for the better if the change does not start in ourselves. The change starts in us. Let's give the benefit of the doubt whether Jun Lozada is sincere or not.
With those thoughts in check, I support the Sanctuary Fund Drive for more witnesses to summon the courage to come out. Here is the Press Statement of the UP SAMASA "Ika-100 Taon ng Pamantasan, Isang daan Piso sa katotohanan" held at Trinoma Lamesa Grill at 12 noon today.
Sometimes courage manifests itself in the strangest quarters, and integrity springs suddenly from the hearts of the most timid of souls. Thus are heroes made, not to answer to some grand destiny, but to fulfill the simplest of obligations : to do what is right.

But while all of us subscribe to this belief, very few live by this basic tenet. And few still dare to put a risk jobs and careers, and much more, life and limb, to do whawt is right.

In a public service culture steeped in patronage and plunder, where the higher you go, the greater the greed, whistleblowers are as rare as oases in a desert. It therefore simply boggles the mind how someone like Jun Lozada, who could have become as filthy rich as his bosses and contemporaries in government just by shutting his mouth, could not only turn his back on a bribe amounting to millions of pesos but could be brave enough to out the truth in public.

Monuments are raised for those heroes that fall on the battlefield or are victorious in war. But for the whistleblower, after all the grandstanding of politicians is done and after media has squeezed from him all the mileage they can get, and well-wishers have patted his back raw, he will find himself ignored and forgotten, jobless and penniless, unable to feed his family. It simply is not right.

So as members of the University of the Philippines SAMASA alumni, we call on our friends, colleagues and community to do something right, that is, to contribute a small amount of money to what we have dubbed "Ika-100 Taon ng Pamantasan, Isang daan Piso sa katotohanan", as our small way of giving to the Sanctuary Fund set up by the church people for the benefit not just of this one whistleblower but of other people who we know will have the courage to do what is right in the future.

It is a simple, no fanfare activity; walang pataasan ng ere, walang papogian. We give and that's it. However, should circumstances call on us to greater and immediate action, rest assured that the members of the SAMASA alumni will not shirk from the unfolding drama that might end up remaking this nation once again. We will do what is proper. We will do what is right.

Mabuhay ang sambayanang Pilipino.

UP SAMASA ALUMNI
22 February 2008, Quezon City.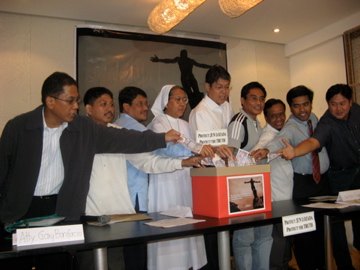 The Sanctuary Fund Drive has now reached PHP P997,547.75, pesos (as of 2:30 pm) in just 8 days since Senator Kiko Pangilinan called the setting up of the fund during the first NBN hearing that Lozada attended. (where the former head of the Philippine Forest Corp. accused ex-elections chief Benjamin Abalos Sr. and First Gentleman Jose Miguel Arroyo of putting pressure on the government to approve the overpriced contract with China's ZTE Corp. in order to collect P130 million in kickbacks). The fund is mainly for legal expenses and is not meant solely for Jun Lozada. It will be used as a sanctuary fund for the other whistle blowers to come forth and speak the truth.
The question that might pop your mind is why should there be a sanctuary fund drive for Jun Lozada? I addressed this question to Sister Estrella Castalone of the Association of the Major Religious Superiors of the Philippines (AMRSP).
Sister's reply is this:
We are not helping only Jun Lozada. The fund is to support witnesses like Jun Lozada. We hope and pray that the people will come out and have their share of this crusade of the Truth . It is our mission to help them.
If you believe that truth should prevail, please contribute to this fund. You can donate any amount to:
Metrobank
MBTC Account No- 3259-07445-3
Accout Name: AMRSP Special Funds
Please contact
Association of the Major Religious Superiors of the Philippines (AMRSP) Secretariat
28 Acacia Street, New Manila, Quezon City
Tel. Nos. +632-724-4434 or 632-448-5644
Telefax- _632-725-3478
e-mail: [email protected]
Related Blog Entries From Moms
1. Annamanila on Taking Responsibility
2. Dine on Truth and Accountability Mass at Ateneo
3. Jane on Our Youth are the Hope of this Land
4. Dine on In Search for the Truth–The D Spot Opens its doors to your opinions, suggestions, reactions, atbp
5. Cathy on What is 130 Million to you?