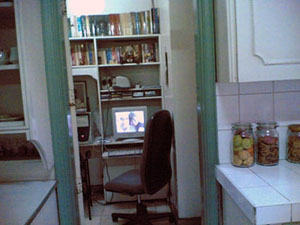 This is my Home-office, Business-office (HOBO) or does Small-office Home-office[ (SOHO) sound better? Whatever you call it, I've been a work-at-home-mom since my daughter, M was born in 1987. That's my working station and right behind it is the kitchen which overlooks the front door of the house. It's a small nook that allows me to be in touch with kitchen activities and family members hovering behind me.
Everyone is yelling distance away except for my kids if they are in their bedrooms. That's because the walls of their rooms are almost sound-proof. Nothing to worry about, the Yahoo Messenger is a convenient tool for getting their attention. An example….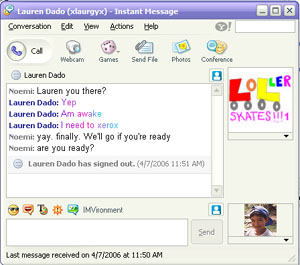 My husband goes "What are you doing?"
"Talking to Lauren"
"you're lazy. Why can't you just go to her room? " He teases.
"Yahoo messenger is faster". I quip.
The girls had their own computer upon reaching college. I believe that young kids should share a family computer so their activities can be monitored. Not that I don't trust them . Staying too long in the computer is unhealthy.
One of the hazards of an online business is sitting on the computer chair all day long. Not to mention getting afflicted with Carpal Tunnel Syndrome. I also tend to get engrossed with work that I forget the time.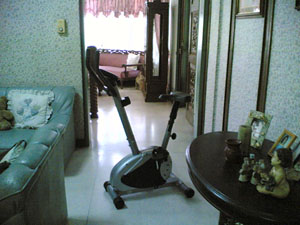 Physical activity is limited to finger exercises which does not derive cardio-vascular benefits. Hence, my daily routine entails a two-hour gym workout in between my work. If that's not possible, the stationary bicycle is a wonderful alternative. As I bike , I watch TV shows at the same time. Computer work also strains my eyes. Just before bedtime, placing a cucumber slices on my eyebags highlights the end of a productive day.
(to be continued…)