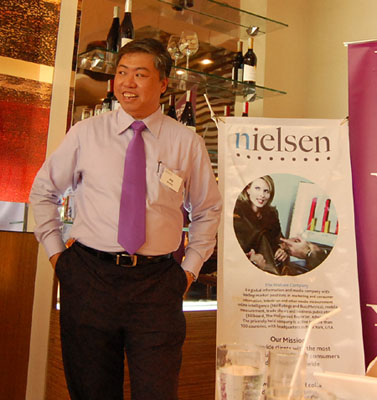 Jay Bautista, Nielsen Company executive director for media
If there is anything that excites me more is research findings or trends related to my interests like the internet. I was holed up at the Emergency Room of the Medical City early this morning because my daughter had to be given anti-rabies shots because her pet cat bit her hand without provocation. My daughter, knowing how I love research studies told me to go ahead to the Yahoo! & Nielsen Release of the First-Ever Internet Habits Study for the Philippines but I got there after the presentation of the study. Good thing I was able to catch up with Jay Bautista about some aspects of the study.
The results of this study are quite revealing. It is very relevant to marketers and media planners as it provides insights into urban Filipino internet user habits.
The research was based on personal face-to-face interviews using two-part structured questionaires in 22 major cities including Metro Manila with a sample size of 1200, males and females aged 10+ years old across all socio-economic classes who have used the internet in the past month. A multi-stage probability sampling approach was used. Survey was conducted from October to November 2008.
What are the significant highlights of the study?
1. More Filipinos, especially the younger population, are favoring the Internet more than television and print.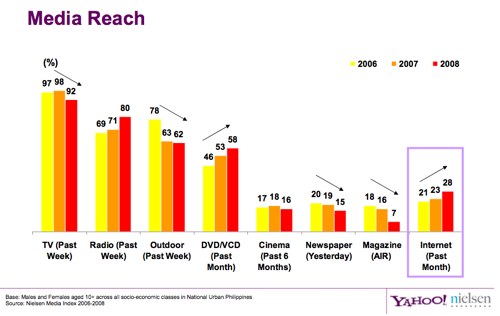 TV viewership declined from 98 percent in 2007 to 92 percent in 2008, out of 1,200 people sampled. Readership of newspapers also showed a decline from 19 to 15 percent between 2007 and 2008. Magazine readership also went down from 16 percent in 2007 to just seven percent in 2008.
Internet usage increased from 23 percent in 2007 to 28 percent in 2008.
2. 28% of Filipinos in National Urban Philippines have accessed the internet in the past month. 5% access the internet every day.
That is an estimated 20 million internet users up by 5% from the last year's estimate.
3. Internet use is not restricted to the big cities like Metro Manila. Other cities are experiencing internet growth. For example, 35% of Filipinos in Cagayan de Oro have accessed the internet in the past month.
4. Filipino internet users are more likely to be opinion leaders and early adopters compared to traditional media consumers. They are likely to be individualistic, trend conscious, willing to pay for quality products and tech-enthusiasts. They also look for advice online before buying new things.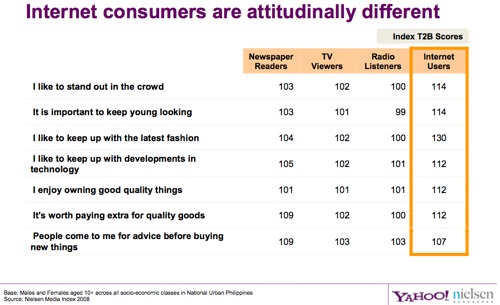 5. Internet cafes are an important access point. 71% have accessed the internet from internet cafes in the past 3 months. 47% of all internet time are spent in internet cafes.
6. Social networking is a key online activity.
51 % claimed to have visited a social networking site in the past month.
1 in 3 Filipino internet users have a blog
7. Online transactions or commerce remain low. Only 3% of internet users conduct online banking activities or make online purchases.
8. Filipino internet users are likely to be below 29 years old, single and are better educated.
9. Internet usage is particularly higher amongst the younger segment. 50% of those below 20 years old have accessed the internet in the past month, with a breakdown of the following:

(% past internet access)
10-19 years old – 50 %
20-29 years old- 41%
30-39 years old- 19%
40-49 years old – 12%
50 + years- 3%
Looks like my peers are just a mere 3% of the internet user population.
10. Email (63%), Instant Messaging (63%) and Search (58%) are the most common online activities for Filipino internet users followed by searches (58%), playing games online (53%), social network site (51%), download/upload of digital photos (42%), internet radio (28%), down-/upload music files (25%), read news online (24%), internet SMS (23%), online banking (3%), purchased products online (3%).
Yahoo! is the dominant web-based email, instant messaging and search service in the Philippines.
11. For bloggers, here are relevant statistics.
42% read blogs
32% worked on a personal blog

Jay Bautista told me that 90% of bloggers are using friendster. Not surprising since Friendster is the leading social network in the Philippines.
The findings shows that there are probably 6,400,000 bloggers (32% of estimated 20 million internet users) and 90% of which are bloggers using Friendster's blog making that 640,000 bloggers using Multiply, Livejournal, hosted accounts, blogger, or wordpress.
The implication of the study is that marketers and media planners in the Philippines can re-examine their advertising strategies and utilize the internet as an effective way to reach and engage target consumers. With an estimated 20 million internet users, the Philippines will see more users going online to communicate with family and friends, to engage in entertainment, and to obtain information as the internet becomes increasingly accessible around the country. Businesses will need to keep up and understand the new opportunities the internet medium and their online consumers bring. Yahoo!, on the other hand, views the survey results as a way to convince advertisers to widen their marketing strategies to an online platform.
With a generation of young Filipinos growing up as digital natives, understanding their media habits is critical to understanding of the future.
Some key highlights of the study below
Yahoo Nielsen Internet Habits Study for the Philippines
Related Blogs & News
Internet use in RP expanding to lower income groups, ABS CBN
Declining Filipino TV, print consumption Inquirer.net
Video: Study shows changing media habits of Filipinos, Inquirer.net