by Racquel Erhard, as originally posted at the Philippine Online Chronicles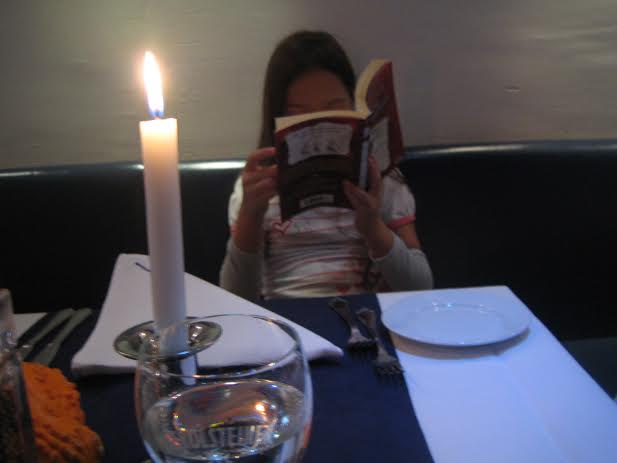 This article was inspired by a recent story I saw online about Steve Jobs. Did  you know that Steve Jobs, the innovative former CEO of Apple, didn't lets his kids use iPhones or iPads?
In an interview in 2010, Steve Jobs expressed concern about his children's gadget use.  At home, the technology his kids use was moderated, he said.
In that Inquisitr article, Jobs explained: "As all modern parents know, iPhones and iPads are extremely appealing to children. These little hand-held devices are state-of-the-art toys. Surrogate parents almost, capable of entertaining, distracting, and pacifying children during school holidays and on long car journeys when mom and dad's attentions are focused elsewhere. Yet instead of thanking Apple for these extremely convenient parent assistants, should we actually be concerned about the potential harm they may be inflicting upon our youngsters?"
What the late IT genius said hit home.  I have long been disturbed by people's (and I mean both young and old) predilection for electronic gadgets.  Almost nobody could sit still without having electronic gadgets on hand. Do you agree? Look around you – the train stations, the buses, the jeepneys. You would find people busy tinkering with their devices.
Focus on people in restaurants. Regardless if they are in fastfood, fine dining, bars, carinderia ni Manang, truck food stops, etc., what is the one thing all of them have in common? Yes, those electronic gadgets. Nobody could move without their handheld devices.
Imagine having a nice and intimate family dining experience. Can you imagine one where family members are focused on each other, the way family dinners should, by tradition, be? Impossible with kids and their iPhones, isn't it?
A few days ago, my husband and I were invited to a restaurant located in a historical house dating back to the year 1400. (We are, by the way, based in Germany, my husband's country.) The main dining area used to be the wine cellar of the house. Its cave-like atmosphere turned into a very romantic and noble dining experience. We noticed there were reserved  tables for a family of about  30.  The tables were elegantly decorated.  Sitting in  one corner was an old lady, seeming all alone even if opposite her were two teens, possibly her grandchildren, busy with their smart phones.
During that time, the old lady remained seated in her corner, while the two teens stayed put, fingers on their gadgets.  It was only when the bigger crowd of guests arrived that the grandma was acknowledged! How sad is that?
I may not be Steve Jobs, and I am not technology savvy, but I know the danger these handheld devices could bring. That was the reason why early on, when my girls were still toddlers, I found ways to keep them busy especially when we were dining out.
And no, we also didn't have to keep on visiting McDonald's or Jollibee for that matter, to keep them busy in the play area.
Of course, there are family restaurants that offer gifts of toys or activities to keep the kids busy and not bored to tears. There are restaurants with kid's corners featuring small tables and chairs loaded with crayons and papers or even books — sometimes even a box of assorted toys to choose from, or a computer with creative games. One fine dining area we visited even had a babbling parrot which greatly amused the children.
To make sure that the kids would enjoy the dining out experience, you have to focus on these two details:
Choose a family-oriented restaurant. There are a lot of family-oriented restaurants that automatically offer creative ways to engage kids. They would have coloring pads and crayons, they would have puzzles, they would have play corners, too.
Consider the kids' meal time. Make sure you would be arriving in the restaurant  just before, and not way past, the normal meal time of the kids. Come on, you cannot expect them to sit still if their stomachs are grumbling.
Here are some tips to keep your child busy to enjoy dining out without using handheld devices:
Books. I am sure they would have their favorite books; bring them with you! If not, you might find interesting books in the corner of the play area (or ask the restaurant staff) if you are visiting a family-oriented restaurant.
Coloring pads or books with crayons (of course!). Just in case the restaurant doesn't have them, you might want to bring your own art supply. To keep them interested, you might want to color with them.
Drawing pads and pencils. Yes, in our family, coloring pads or books are different from drawing pads. As my girls would say 'drawing pads are blank pages.' Point taken?
Tic-Tac-Toe. If you don't have any drawing pads and pencils, you might want to use the paper saucers, the straws, the sugar packets or whatever items you could request from the restaurant staff or even from your bag!
Bato-Bato-Pik (Papers and Scissors). Okay, this one is still a hit even though my girls are already 10 and 12 years old.
Saw-Saw-Suka. Another favorite game, even though my girls would always ask me to keep quiet when I sing this crazy children's song. You could even ask the whole table to join the game!
Card games. Yes, we always bring UNO cards if we know that there would be a long wait especially if we know that the type of restaurant would not have space to play or to walk around.
Favorite toys. I have two girls so they normally bring their favorite dolls in the restaurant so they could play house. These past months, it was the Smurf family that is gracing our dining out tables though.
Pick-up sticks. Yes, those fun sticks.
Origami. You would need paper napkins or pads for this.
Rubber bands. Have you tried creating funny shapes out of rubber bands using your fingers as an anchor? Well, you should!
Try to keep those electronic gadgets at home. There are more games that would not need money or accessories to be played such as Eye Spy or Touch the Color. It's a simple sacrifice for the short time while you are waiting for the food to be served while dining out.
Dining out is not only a way to enjoy the silence. It is not only a way to keep the kids busy while you catch up with the other adults in the family. It is also a chance to bond with the kids, in a creative, fun and active way.
Raquel Erhard blogs at Home Worked.