""Learn from yesterday, live for today, hope for tomorrow." Albert Einstein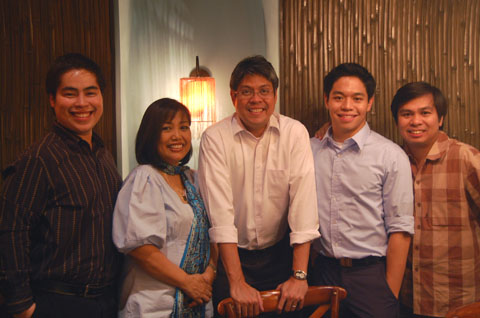 Disclosure on Political Affiliations: I do not work for Kiko Pangilinan or any other politician. Kiko and my husband know each other way back in the UP College of Law. Neither am I affiliated with a political party. I am close to Senator Pia Cayetano and Senator Alan Cayetano . Our relationship ties date back even before they became senators. Former President Fidel V. Ramos is a family friend due to ties from my father-in-law. I used to be a student activist in my UP Diliman days. My political views range from conservative to liberal. I don't have plans to run for public office. Meeting with politicians and writing about their programs is part of my current plans for this blog till 2010. Any endorsements will be made just a few weeks before Elections 2010.
Niña Terol, fellow blogger and Political Communications head of Senator Kiko Pangilinan said it was an "an intimate discussion/dialogue about how we can use the power of social media to transform the Philippines and usher in positive things for our people and our country" and would last from 6:30 PM till 8:30 PM but our dinner actually ended at 10:00 PM. As usual, I'm an early bird and took my time taking photos of Mesa Greenbelt 5 which I found later on is owned by Kiko and friends (read my Mesa, Greenbelt 5 post). Shortly after, Kiko walked in. Oh, he is an early bird too. I found out that he knew my husband way back in Law school so there was a lot of common ground to babble around with, before his staff and the other bloggers arrived.

As soon as Ganns Deen, Jomar Hilario, Ivan Henares and Vince Golangco arrived, Kiko ordered Filipino dishes with authentic flavor and such a unique twist in the presentation. Kiko then started to talk about hope for the Philippines.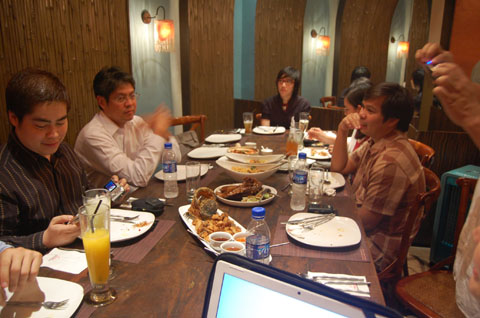 Hope is a theme that I recurrently speak in my blog. It is a mother's hope that this country will change. But change has to start from the top. Whatever little hope this country has is largely pinned on traditional politicians running this country. Same old same old problems. Our leaders can't just keep on mouthing off on promises and showing statistics of so-called improvements in the economy. Anybody can do that. I am worried about the future that my kids would have. Yes, we need to start with ourselves but it just comes back to me that whatever we do, having these selfish leaders would never free us from this pit of corruption.
So I listened to the young and idealistic Kiko and what he was hopeful about. There must be something we can do. Three thousand Filipinos leave the Philippines each day to find hope in another country. Can there still be hope left for those that choose to live in the Philippines? Kiko mentioned that young voters can usher in the political and electoral change that we need to happen for genuine political and economic reforms to take place. That's not going to take place if these young voters don't register before the October deadline. He speaks of the OFWs that have been enlightened by their experiences abroad and will demand greater of their leaders back home. People are beginning to say enough is enough and are actually doing something about it.
Kiko has recently started discovering the powers of social media and is more eager than ever to use the power of the Web and words to change the way Filipinos feel about their country. He talks of a reform movement and running "independent" as a Vice-President. He is tying up with the Movement for Good Governance with Kaya Natin! He is with the Reform Coalition. He spoke of integrity, passion and love. What an optimist and idealist! In fact, I agree with Vince that Kiko is one crazy guy. How could change possibly start with politicians? The optimist in me sees this crazy guy with hope and at the same time, the pessimist in me thinks this is all about politics.
I choose to hope not because of Kiko but for the sake of our country.
Here's to the crazy ones.
The misfits.
The rebels.
The troublemakers.
The round pegs in the square holes.
The ones who see things differently.
They're not fond of rules.
And they have no respect for the status quo.
You can quote them, disagree with them, glorify or vilify them.
About the only thing you can't do is ignore them.
Because they change things.
They push the human race forward.
And while some see them as the crazy ones, we see genius.
Because the people who are crazy enough to think that they can change the world…
Are the ones who do.
""Hope is not a dream but a way of making dreams become reality."
Meeting other Politicians