Trying to break the language barrier at dinner, I asked the Chinese TV host if he had other adjectives to best describe our culinary experience at the Singapore Food Festival. Delicious, yummy, heavenly, mind-boggling, wonderful…I forgot his name now but he said he ran out of words himself but he managed to utter two words "Delicious" and "so special". How else can I describe the food and the experience? (edit- I found his calling card. Silly me, his English name is Never and I even told him "I will NEVER forget your name is NEVER. Senior moment for me indeed)
Maybe this video compilation of photos will help?

Here is the Link to the Video Compilation
It's my first time to cover an event of a country. Usually it's either I blog about a product, service or even politicians and personalities but an event in a country? It was truly an experience! My trips to Singapore have always been limited to shopping at the digital mall , Hawker's center or museums. In the course of my media familiarization tour, I found out that Singapore saw visitors spend more than S$1.4 billion on food and beverage, about 14 per cent of their total expenditure in 2007. On the average, around 20% of the Singapore Food Festival attendees are tourists. No wonder the Singapore Tourism Board needed to sustain that source of economic activity or even increase it further. A country needs to be run just like any profitable business enterprise. Media promotion is one way to champion tourism just like how Secretary Ace Durano invited Happy Slip to do videos for the
Philippines Tourism global campaign.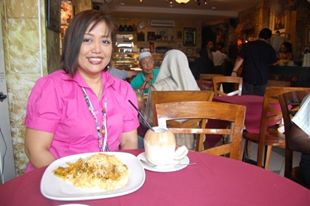 One very fascinating trivia I found out is that a popular TV show called Little Nyonya helped revive a declining Peranakan culture.
The unprecedented success of this drama series immediately brought about a fever in things Peranakan, as it were, among Singaporeans. First to benefit from it were the established Nyonya food restaurants whose business turnovers immediately shot up by between 20% and 30%, followed by bakeries and hawker stalls specialising in Peranakan cakes and tidbits and other beneficiaries include the tailoring and shoe shops catering exclusively to customers interested in Nyonya attires, beaded sandals and other paraphernalia.
Peranakan cuisine is being showcased this time around and am I glad to have tasted the richness of the cuisine that originated from the union of Chinese ingredients such as bean paste, garlic, bamboo shoots with Malay spices like chillies, turmeric, lemon grass and belacan, and peppered with influences from India and Britain.
The Peranakan culture truly reflects Singapore's multi-cultural landscape. I truly enjoyed my multi cultural gastronomic experience in Singapore that I will now expand the coverage of my Recipes Blog to include Asian Cuisine.
Even if my family couldn't be with me during these trips, they are always in my heart and even, Kippy Cat travels with me.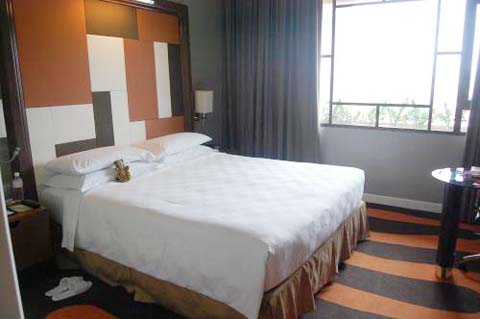 Lastly, I want to thank the Singapore Tourism Board for placing faith in online media and, the Filipino blogger.
Read my other entries of the Singapore Food Festival
Opening Day at Clarke Quay on July 17
Multi Cultural Gastronomic Experience in Singapore
Working and Having Fun in Singapore
True Blue Cuisine: Authentic Peranakan Food and Boutique Restaurant
Selected Video Clips (Playlist)
How to Cook Singapore Chilli Crab (A Recipe)
Longest Peranakan Buffet on July 26
Violet Oon Demonstrates Peranakan food recipes